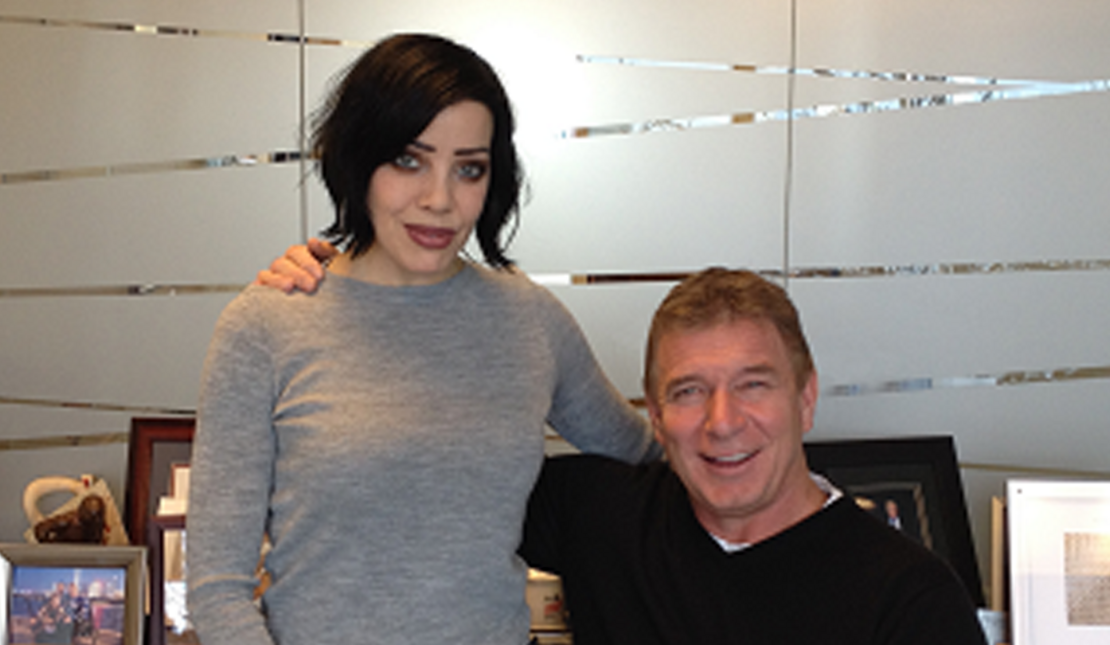 By Rick
On March 3, 2014
Leadership
Rick Hansen recently chatted with Canadian singer-songwriter, actress and motivational speaker Bif Naked about her thoughts on what it takes to overcome challenges, be a force for good in the world and truly make a difference.
Rick Hansen: Bif, you went through a very challenging time when you faced a cancer diagnosis. What advice would you give to someone facing huge, seemingly insurmountable obstacles?
Bif Naked: When facing huge challenges, remembering to "respond" and not "react" is always the key. As humans we are all naturally quick to panic in crisis situations. Our natural instincts take over, often in a fear-based way. My own personal challenges were easier for me to deal with when I remembered to stay calm and reminded myself to 'stop' if I felt like I was panicking.
RH: When you went through cancer, who were the people who stuck with you?
BN: Cancer and many other family or health challenges tend to "weed-out-the-weeds." Some friends step up, while others seem to step back. It's almost never personal. Some people just feel too badly for you and don't know what to say or do, or feel so awkward that they avoid you. Some people simply are not capable of assisting or being supportive and that is okay. Other people do, somehow, find extra strength for you or for your family and it seems to balance out. Other patients and other patients' families became much of my support network.
RH: What did this experience teach you about your friendships and social connections?
BN: Everything in our lives occurs to teach us. We learn about people and even about ourselves. Challenges and struggle always teach me so much. I wind up in a place of deep gratitude for the lessons—even if they were lessons in patience or non-judgment due to unwelcome events. I always learn more.
RH: What helped you get through the tough times?
BN: Getting through tough times is different for everyone—we all have various coping techniques. My faith in people and in myself never fails me. Ever. This may be an emotional metaphor for faith in "Love," in "The Universe," or even for "God," but my faith in a positive outcome never lets me down. I am a total optimist and will always find the good in absolutely anything. Also, telling jokes to the chemo nurses while they hook-up your surgical port to the IV really helps. Laughter truly is the best medicine.
RH: Do you have a motto in life?
BN: Be Kind. Always.
RH: You've done a lot of volunteering. What kind of impact are you trying to make on the world? How has volunteering impacted you?
BN: I volunteer quite by accident. I didn't actually even know I was volunteering. I am simply recognizing a need and making myself available to meet that need. I can't help myself, and wish I could do this work full-time. I love people and I love to try and support others whether they be "rookie" (newly diagnosed) breast cancer patients, or palliative patients and families. I often discover people need some extra support, whether it is companionship, talking through what I went through, during my own treatment, or leading a prayer or gratitude meditation. I try to be available for everyone I can. Sometimes it seems like there are not enough hours in the day to connect with everyone who needs a friend. But I always try.
RH: What defines community?
BN:  Community, to me, is our chosen environment and people. I say chosen because it's about the people and the places that collectively support and uplift each other.
RH: What inspires you?
BN: Everything inspires me. Everything. I love life and I think everything from the eyelashes on chickens to the taste of bananas to the sounds of kids laughing are real blessings on any given day. If we can consistently notice these simple things every day, we can never be sad or unkind. That is inspiring and motivating.
RH:  In your mind, what is a difference maker?
BN: Everyone is a difference maker. Each one of us has the power and the ability to impact each others in such a tremendous way. I believe most
RH: What advice do you have for someone who wants to pursue career in music?
BN: Any career, whether it is music, dishwashing, or truck driving, is worth pursuing if it's your dream. Never give up, stop, or quit. Keep going and believe in yourself and in your dreams. The joy and passion is in the pursuit of that dream. That passion never goes away, no matter how many years you keep trying. Even I keep trying and keep dreaming. That's half the fun!