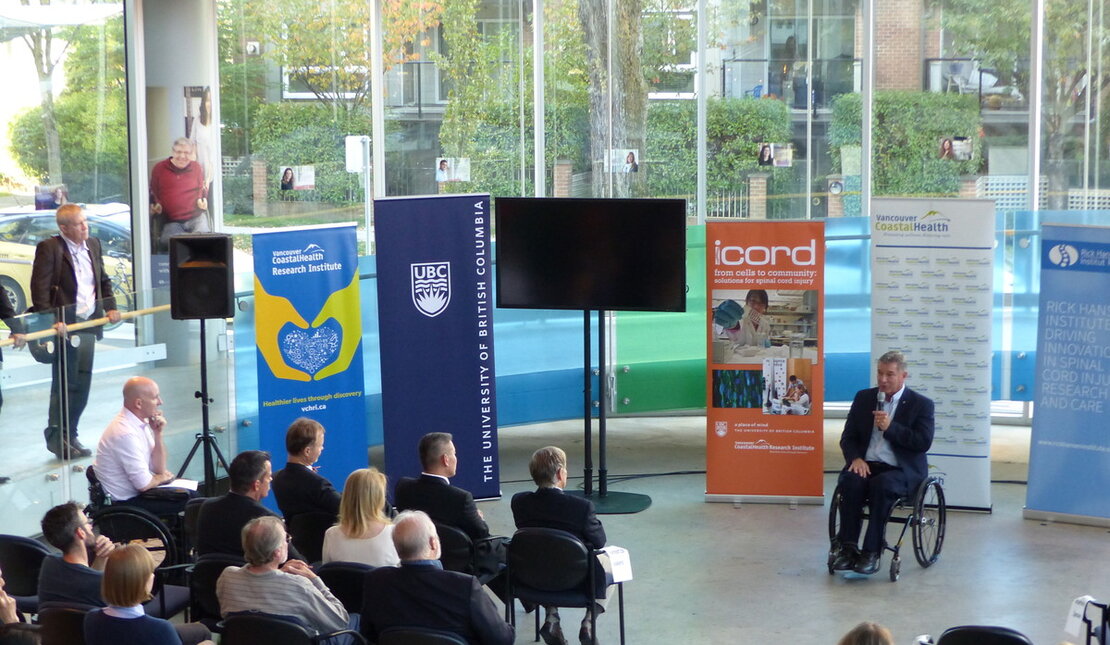 By Alannah Johnston
On December 4, 2018
RHF News
Ten years ago this November, the six story, 11,000 square metre Blusson Spinal Cord Centre (BSCC) opened its doors. Designed to foster dialogue and collaboration across disciplines, the BSCC provides people with spinal cord injury (SCI) convenient access to health services and gives them the opportunity to participate in research on their conditions.
The BSCC started out as a dream of a group of doctors and visionaries which included Rick Hansen. It was established due to the support and partnership of the BC Government, UBC, Vancouver Coastal Health, the Canada Foundation for Innovation and the BC Knowledge Development Fund, and it was named in recognition of Dr. Stewart and Mrs. Marilyn Blusson's contribution to making this dream a reality. BSCC is home to the Rick Hansen Institute (RHI), International Collaboration on Repair Discoveries (ICORD), the David and Brenda McLean Integrated Spine Clinic, and countless projects which have been leading global innovation and research in SCI cure and care for the last decade.
To mark this milestone, the partners at the BSCC have created a video which introduces a few of the talented professionals who call the Centre home. There's so much to celebrate, but we have tried to narrow it down a little. In honor of ten extraordinary years, here are ten innovative projects from the Blusson Spinal Cord Centre which were possible because of the environment BSCC has created; one of collaboration, innovation and community integration.
10 initiatives from the Blusson Spinal Cord Centre
1. Sharing the latest spinal cord injury research online 
Knowledge is power! The Spinal Cord Injury Research Evidence (SCIRE) website is a free online resource library where experts review and post the latest research on rehabilitation and community integration in SCI. SCIRE has two sections; SCIRE Professional is for clinicians, and SCIRE Community contains plain language summaries of the same information. Access to credible information improves care, health outcomes, and empowers the community.
Organizations: Rick Hansen Institute, ICORD, Vancouver Coastal Health Research Institute, Ontario Neurotrauma Foundation, Rick Hansen Foundation, Blusson Integrated Cures Partnership.
2. Building a SCI Registry to be used around the world
The Rick Hansen SCI Registry (RHSCIR) is the most comprehensive database on individuals with a traumatic SCI. Originally the vision of Rick Hansen and Dr. Marcel Dvorak, the Registry operates in hospitals and rehab facilities across Canada, and has collaborations in New Zealand, Israel and China. RHSCIR enables researchers and healthcare providers to answer critical questions about care, and helps identify how to improve SCI care.  
Organizations: Rick Hansen Institute, ICORD, Vancouver Coastal Health, University of British Columbia. 
3. Making staying active after spinal cord injury easier
The Physical Activity Research Centre (PARC) is a community based research facility within ICORD, which means it is a gym where participating in research is a seamless part of each daily workout for members with SCI. PARC provides adaptive fitness equipment to over 300 local community members living with SCI, focusing on how physical activity impacts their lives. Behind the big, welcoming (and automated) doors is a close-knit community of regulars, similar to any gym across the city.
Organizations: ICORD
In 2017, Accessible Media visited PARC to learn how its volunteers and participants are making Vancouver healthier and more accessible.
4. Developing skills with Tetra Society's woodworking shop
The Tetra workshop is a fully accessible space that is a collaborative and welcoming environment for individuals who don't have a shop and woodworking tools of their own at home. Supported by the Tetra Society and staffed by volunteers, the workshop is a resource for people with physical disabilities interested in woodworking, and enhances their independence and abilities.
Organizations: Tetra Society, ICORD.
5. Developing a skin substitute to heal wounds
Bed sores, or pressure ulcers, are one of the most dangerous complications for individuals with SCI and people with other disabilities. Clinical trials of a liquid skin known as "Meshfill", developed by ICORD researchers at BSCC, show great promise, allowing pressure ulcers to heal by filling up void spaces that develop inside the wound. Meshfill shortens the recovery time, allowing patients to return to their daily activities faster.
Organizations: ICORD, Brenda and David McLean Integrated Spine Clinic (VCH), Vancouver Coastal Health Research Institute.
6. Evaluating diet therapies as a treatment for spinal cord injury
New evidence is giving the expression 'you are what you eat' more meaning! A current research project is evaluating the use of novel diet therapies, such as the high-fat, low-carb ketogenic diet, as an alternative to the pharmaceutical methods of treatment after SCI. The objective is to reduce inflammation and promote neuroprotection and functional recovery after SCI. 
Organizations: ICORD, UBC
7. Understanding and treating autonomic dysfunction
People with SCI often experience dysfunctions of their autonomic nervous system, the part of their nervous system that controls functions such as breathing, heart rate, and digestive processes. A large interdisciplinary research team investigating these dysfunctions, from animal models in the discovery science lab, to clinical trials of pharmaceutical interventions, to experimental implants, to creating evidence-based clinical guidelines and smart phone apps for emergency room physicians. 
Organizations: ICORD, Brenda & David McLean Integrated Spine Clinic, Rick Hansen Institute.
8. Developing clinically relevant models of spinal cord injury
Animal and computer models of spinal cord injury improve our understanding of how variables like velocity, direction of force, and compression affect spinal cord injury. This understanding can inform injury prevention and research into injury-specific treatments. 
Organizations: ICORD, UBC, Blusson Integrated Cures Partnership.
9. Detecting bladder problems early with HOME-SCI
Technology is a powerful tool for individuals with SCI Study participants used weekly videoconferences with a nurse to monitor their bladder health. Early identification of symptoms without the need to visit a clinic could reduce the risk of more serious bladder complications for individuals with SCI. 
Organizations: Brenda & David McLean Integrated Spine Clinic, ICORD, Rick Hansen Institute.
10. Integrating clinical patient care with research
The Brenda & David McLean Integrated Spine Clinic provides spine and spinal cord related services under one fully accessible roof, which is both more convenient for patients and also provides more opportunities for collaboration among clinicians and researchers. Research is seamlessly integrated into the care provided by the clinic, with the goal of improving patient care and quality of life. 
Organizations: Brenda & David McLean Integrated Spine Clinic, Vancouver Coastal Health, UBC, ICORD, Vancouver Coastal Health Research Institute, Rick Hansen Institute.
Building on a decade of innovation to a better future for people with SCI
Thanks in part to the amazing work and collaboration at BSCC, BC has become internationally recognized as a centre of excellence in SCI research and care. In 2013, the Rick Hansen Foundation (RHF) spear-headed the Blusson Integrated Cures Partnership which is a collaboration between it, the Rick Hansen Institute and ICORD. RHF committed $20 million in funding over 10 years to support researchers and clinicians at BSCC, and it is extraordinary to look back on all the work which has resulted from that commitment so far. One of the goals of the Blusson Integrated Cures partnership was that those who enter BSCC's doors leaves them feeling the support of their community, empowered to become champions and active participants in creating a world without paralysis after SCI.