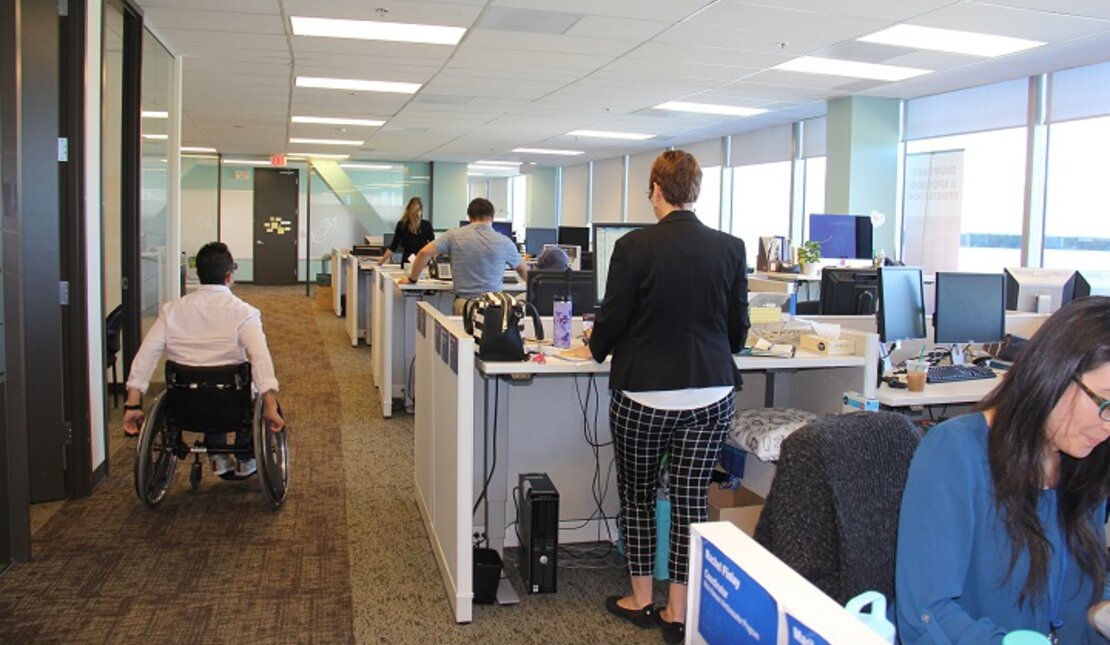 By Sonia Woodward
On August 15, 2016
RHF News
Imagine not being able to work because you can't enter an office building, use a standard desk, or see or read a computer screen. Unfortunately this is a very common occurrence for many people with disabilities. Statistics Canada reports that unemployment rates for people with disabilities remain significantly higher than the national average, and one of the main reasons for this is the physical inaccessibility of many workplaces.

Although the Rick Hansen Foundation's office was mostly accessible, the Foundation, as an advocate for breaking down barriers for people with disabilities, wanted to ensure its space was dynamic, inclusive, and fully accessible for all our employees.

With this in mind, the Foundation's new Vice President of Access & Inclusion, Brad McCannell, provided recommendations based on Safer Home Society's 19 principles of universal design to ensure our workplace would be accessible to people of all abilities. In the fall 2015, with the generous support of Haworth, one of the world's largest office furniture manufacturers, and Brooks Corning, a respected provider of office furniture and business interior solutions, we fully renovated our office space and created an inclusive new environment for our staff.

Here's what we did:
 
Ten individual offices were demolished and replaced with an open-plan design, allowing ample room for wheelchairs and other mobility devices. The open design provides more natural light, better sight lines, and increased visibility for those with low vision.
The old standard office desks were replaced by innovative, electric adjustable-height desks, where the desktops can be moved up and down with the touch of a button. This not only accommodates people using wheelchairs or mobility devices of differing heights and designs, but offers many physical and mental advantages compared to a fixed-height desk, including improved blood circulation, reduced discomfort, and increased concentration and mood.
All employees received new office and desk signage with their names and positions in Braille so our low-vision and blind colleagues and visitors could locate RHF staff easily. Staff also received new Braille business cards.
Assistive technology, like a JAWS Screen Reader®, is also made available for employees who need it.


 
For Foundation employees Ariel Castillo and Nathalie Léveillé, both of whom are in wheelchairs, the improvements to their work environment have been substantial.

Nathalie, who is in a power chair, has had difficulty in the past manoeuvering around in a traditional office space. The joystick control in the front of her chair made it impossible to get the wheelchair directly under the desk when she worked at her computer. Now, she can raise her desk height to fully accommodate her chair's joystick.

Down the hall is Ariel, a member of our Finance team, who is in a manual chair and sits closer to the ground. Ariel needs his desk to be at a much lower height than Nathalie's, and now with his new electric adjustable-height desk, he can easily adjust it for his needs.
 
"It's great to have options," says Nathalie, "the new office layout has made a big difference."
Want to get a closer look at our renos? Check out this behind-the scenes video for a tour!



When public spaces like offices are made accessible, people with disabilities can reach their full potential and actively participate in society. And when physical barriers are removed and people with disabilities can easily live and work in their communities, everyone benefits.

Interested in making your office accessible? Send an email to our Access & Inclusion Specialists at access@rickhansen.com to help you get started!