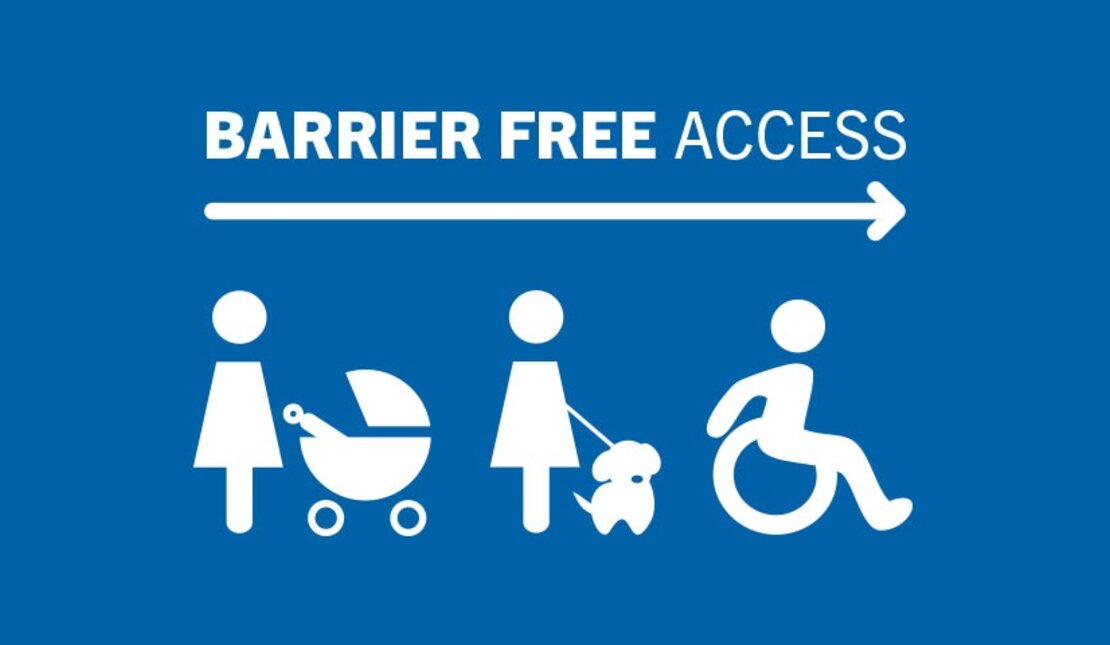 By Sonia Woodward
On August 8, 2016
RHF News
If you own or operate a business, chances are you've tried different ways to attract more customers and increase your sales. But have you ever wondered if your business has physical barriers that prevent customers with disabilities from accessing your shop, restaurant or office? Over 3.8 million Canadians currently have some form of disability affecting their mobility, vision, or hearing, and this is projected to increase in the coming years as our population ages. Making your business accessible for people of all abilities not only increases your customer base and makes good economic sense, but benefits everyone and helps to create a more inclusive society.

Everyone, with and without a disability, should have equal access to offices, stores, restaurants, gyms, and parks – essentially, to all of the places where we work, live, and play. Providing access for all means allowing access to all.

To help get you started, here are 10 ways to make your business accessible:
Make a good first impression. When people approach your business, ramps and automatic doors allow customers with mobility devices (and parents with strollers) to enter easily.
Clear the aisles. Regardless of a person's abilities, having a floor space free of obstacles allows any customer to move through the store easily and eliminates tripping hazards. When people can access all areas of your business, they're more likely to have an enjoyable experience and spend more time there.
Be seen. Signs using a 72-point, sans-serif font (e.g., Verdana, Arial) are easier to read, make navigation more straightforward, and accommodate customers who are Deaf or have low vision.
Ensure the washroom is accessible. An accessible washroom has a door that is at least 85cm wide, a grab bar at the side and back of the toilet, an 80cm space beside the toilet, and a turning radius of 1.2m. You can provide even more space if the door on the bathroom stall swings out, instead of in.
Provide accessible print materials. In addition to written text, having Braille on signage, menus, and business cards will help people who are blind or have some form of vision loss. Also, include photos on your menus to make it easier for customers who may be deaf-mute to indicate what they would like to order.
Find the right light. Adjust the lighting to meet and support the needs of your customers and employees. Although ambient mood lighting creates a casual or romantic setting, it might not be bright enough for customers to read menus, way find, or communicate if they use sign language. You can provide clip-on lights for greater illumination. Many tools are available online to help calculate the lighting required in a given space.
Consider the highs and lows. Offer a variety of high and low tables to accommodate customers who use a wheelchair or scooter, or have other mobility challenges.
Offer flexibility at the point-of-sale. Portable debit machines or an extendable cord give customers a more convenient way of paying, especially for individuals using wheelchairs or for those who aren't tall enough to reach a fixed debit machine.
Open up to closed captioning. Turning on closed captioning on any in-house TV sets will allow customers who are hard-of-hearing or Deaf to follow along with whatever program is on.
Arrange for sensitivity training. Education is the best way to change attitudes and break down barriers for people with disabilities. Providing your staff with training on topics such as how to assist those with mobility devices, interact with service animals, etc, will ensure that everyone is informed on how to accommodate and include all people.

Want to know how your business ranks on accessibility and how you can remove potential accessibility barriers? Get a Rick Hansen Foundation Accessibility Rating & Certification of your business and for recommendations on how to improve accessibility for people with disabilities.

Do you have any other helpful recommendations to reduce barriers in your community spaces? Let us know at info@rickhansen.com.