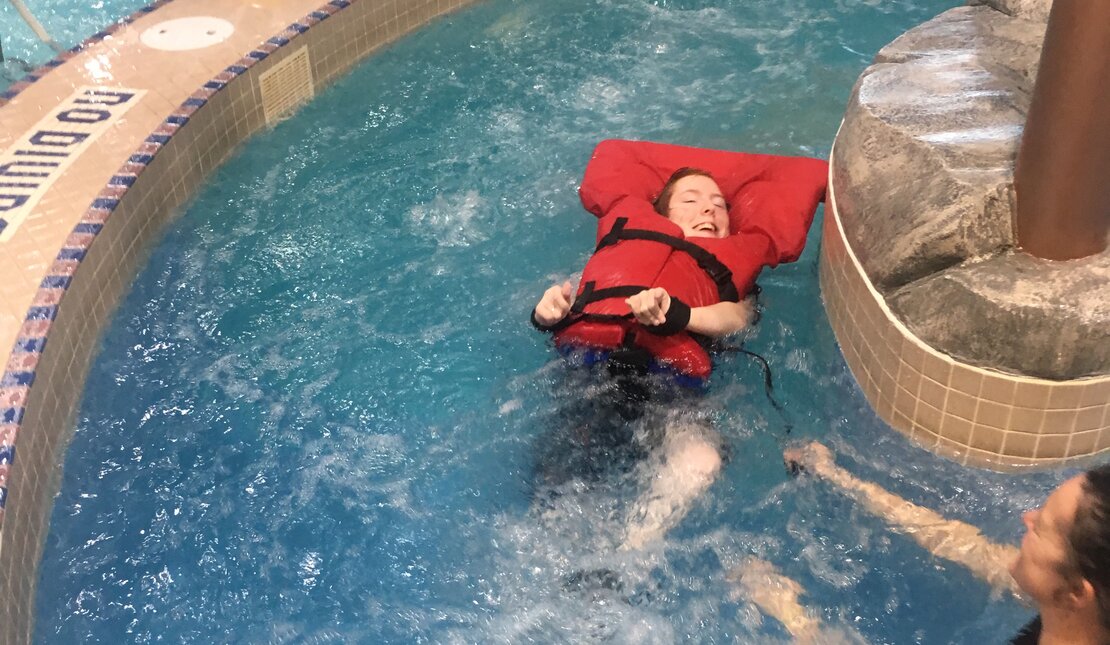 By Alannah Johnston
On February 20, 2019
Community Spotlight
Eva is an inspiring teenager. She's active in her community, speaking out on issues that matter to her. She likes visiting the local community centre, spending time with her friends and family, as well as using local parks and trails. When the City Council in her home town of Whitehorse discussed opening a pedestrian path and bridge to motorized traffic, Eva showed up to the meeting and made sure her voice was heard. 
Eva was born with cerebral palsy, so she uses a wheelchair to get around. This means she faces more barriers than the average teenager when it comes to participating in each extracurricular activity she wants to join. The Rick Hansen Foundation first got to know Eva five years ago, when we helped her acquire an all-terrain wheelchair, allowing her to visit the beach and explore places where paved sidewalks don't exist. We haven't been in touch in a while, but recently, we heard from her again. 
Celebrating Canada 150 with Access for All
In 2017, thanks to support from the Government of Canada, RHF provided 55 'Barrier Buster' grants as part of our Access4All Canada 150 Signature Project. It's exactly what it sounds like. These grants busted barriers to access for people with disabilities across the country, including the Canada Games Community Centre near Eva's home in Whitehorse. 
The Canada Games Centre, built as a host venue for the 2007 Canada Winter Games, is the largest centre of its kind in Northern Canada. It features two arenas, a fieldhouse, aquatic and fitness centres, indoor running track and event space. What it didn't have two years ago was a ceiling track lift in the aquatic centre to transfer people to and from their wheelchairs. The centre applied for a Barrier Buster grant to build the lift, with the goal of removing a barrier for those who could possibly benefit the most from aquatic therapy.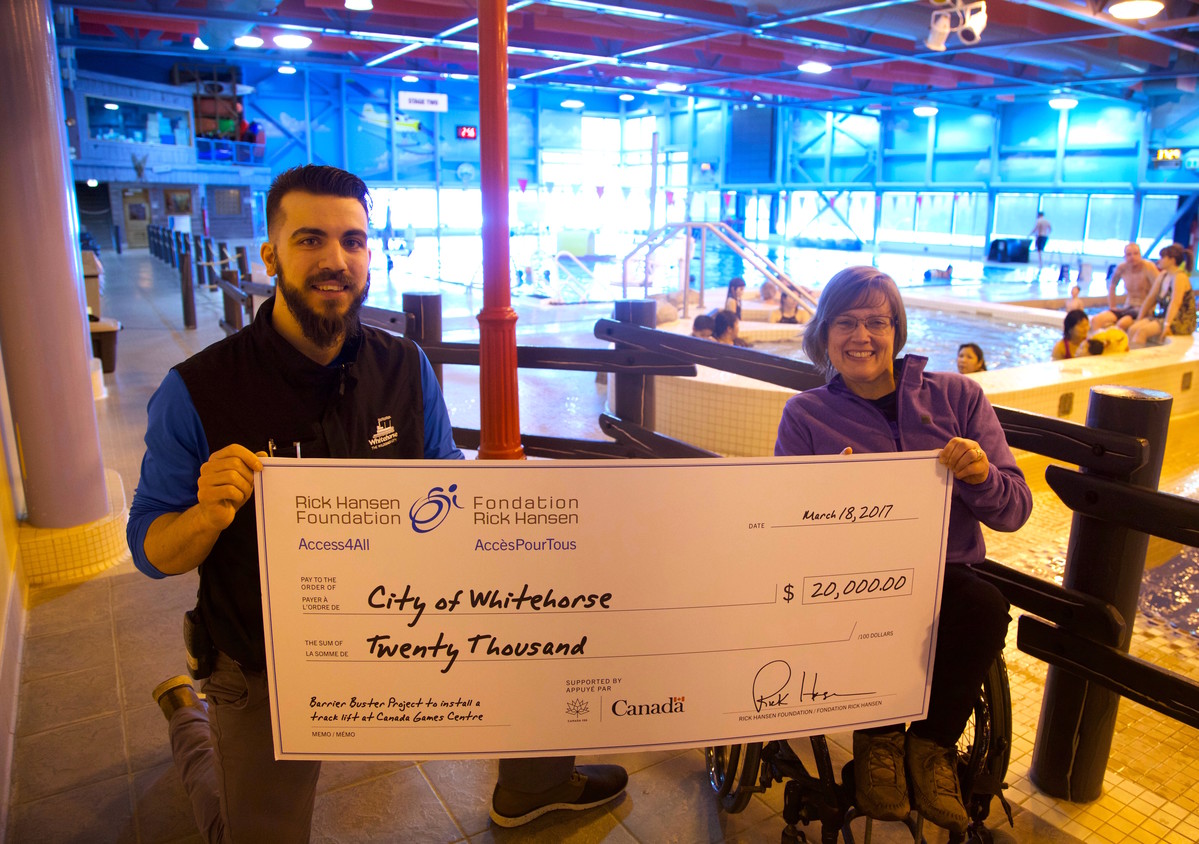 When RHF provided a Barrier Buster grant to the Canada Games Centre, we didn't know this was the same pool Eva's class visited every Wednesday. We didn't know Eva couldn't swim in the pool due to the lack of a ceiling lift. What we knew was that teachers, parents, caregivers and other members of the community had come together to make a difference. We knew that the city of Whitehorse was committed to creating more inclusive public spaces, and that this grant could start further conversations about accessibility in Whitehorse. We knew that this grant could make a real, daily impact in the lives of people with disabilities in that community for a long time to come. 
Making an Impact
At RHF, our impact is best measured in the lives we change. When we received a letter from Eva about her experience at the Canada Games Centre, we shared it with our colleagues in the office and it made each one of us smile because it made the impact of our work real.   
There's no better way to share Eva's story than to tell it in her own words. Therefore, with her permission, here's the letter she sent us, in full. 
---
Dear the Rick Hansen Foundation,
My name is Eva VonFlotow and I am a student at Vanier high school in Whitehorse. I met Mr. Hansen last year when he came to our Terry Fox run with Darryl Tait. 
I wanted to thank you for helping with acquiring a ceiling lift for the accessible change room at the Canada Game center. Now, every Wednesday I go swimming there with the school. I couldn't go before because there was no way for me to get out of my chair and get in the pool. I had not been in the pool since I was 12 and I am 18 now. When I first went in, it was amazing. I have dystonia and being in the water helps me release the tension in my muscles so I can be more relaxed. When I am relaxed, it's much easier to enjoy my activities. I love going into our lazy river but my favorite part is going into the shallow corner of the pool and going into these bubbles, it's awesome and it feels like I am getting a massage. 
I have pictures of me at the pool that I wanted to share with you.
Thank you sincerely,
Eva VonFlotow
---
The Value of Access
Access creates communities where everyone is welcome, and we think that has value beyond measure.   In Eva's case, the improvements to her quality of life and her joy at being able to visit the local pool are priceless. Eva's story reminds us of what accessibility means in practice. Access means inclusion, opportunity, community, a sense of belonging, and joy. Thank you Eva, for sharing your joy.