Thinking of making your school more accessible? Here are some ideas from Canada's first Barrier Buster school.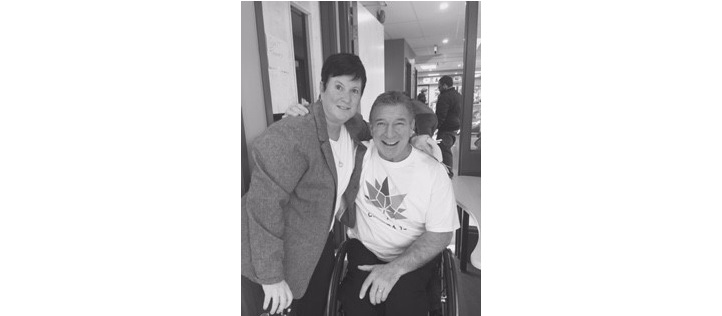 Carolyn West, a resource teacher at Vincent Massey Collegiate in Winnipeg, Manitoba, believes it's educators' responsibility to mold their school into a community where all students can experience life to the fullest. Including students in the discussion about accessibility and inclusion is an excellent place to start.
"It's my job to make education accessible to all students, regardless of their situation – this is why the topic of accessibility is so important to me," says Carolyn. "School-wide accessibility is something we all need to look at."
Because of her leadership implementing lessons from the Rick Hansen Foundation School Program (RHFSP) in her school, she received an RHFSP Difference Maker Award in 2017, the first year the award was extended beyond students to educators across Canada. She was also the catalyst for a school-wide Innovation Day, which engaged the entire school in thinking about accessibility and inclusion. Because of these efforts, Vincent Massey Collegiate was the first recipient of a Barrier Buster grant in November 2016, as part of RHF's Access4All Canada 150 Signature Project, supported by the Government of Canada. 
With this accessibility improvement grant, the school was able to renovate their main entranceway to include automatic doors, new ramping, and an accessible outdoor space. A large project is currently underway to restructure their three-level library to ensure greater accessibility throughout.
Access4All
Carolyn uses creative ways to help her students achieve their academic goals. Many of her students struggle with accessing their school environment, whether their challenges are mental, physical, sensory, or cognitive. 
"I think, without intention, sometimes the idea of accessibility slips from our view. We often don't think about our environment until it causes us a problem. That being said, we run the risk of overlooking the problems and frustrations others might feel when navigating certain environments," says Carolyn.
When the School Division Superintendent shared the specialized RHF Access4All Canada 150 Educator Resource with administrators and teachers, Carolyn immediately saw the curriculum connections and felt it was a perfect fit for their school. At the same time, the faculty was reflecting on professional development and setting goals for the upcoming year. Their physical education team had identified the need to do more support and programming for students with exceptional needs.
Ambassador Program
Faculty and administration collaborated to present the Access4All and Abilities in Motion (AIM) materials to students and staff through their current Teacher Advisory Groups (TAG). Carolyn selected the lesson and coordinated the workshop with RHF. The lesson was then presented to their entire student body with 10 RHF Ambassadors on site to support the content. 
RHF Ambassadors are people with mobility, vision, or hearing disabilities who share their personal stories of living with a disability and overcoming barriers, challenging audiences to think about diversity, accessibility, and inclusion. 
"We had a school-wide accessibility activity with our TAG, and several RHF Ambassadors joined for the activity using the RHFSP resource materials. We are a large school with approximately 1,300 students, and we felt that working in smaller groups would help spark more conversation around the topic of accessibility and what solutions might be available to us," Carolyn says.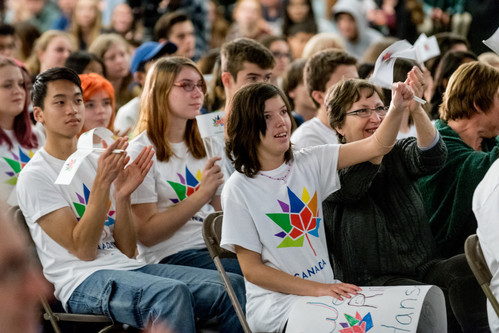 They used a lesson on understanding accessibility and its importance, and included the school inventory/check list, community scenarios, general information about specific disabilities, and the scenario analysis activity. "The students were on board from the beginning. It's like a train going down the track—you just can't stop it," she says.
After hearing the information and participating in the scenario analysis, students really took the time to investigate the school and examined how someone with a sensory or mobility challenge might navigate the environment. The ideas and enthusiasm motivated by this lesson really spoke to their community's level of commitment to inclusion and accessibility – not just with educators and administration, but with students leading the way forward. 
"It was a wonderful example of what can happen when you ask students to look at things from another point of view," she says, "It's always a great feeling when you watch students take the reins and start to guide an idea forward."
Innovation Day
To celebrate their accomplishments, the school hosted their first-ever Innovation Day —a Canada 150 Accessibility and Inclusion Day with Rick Hansen as their special guest.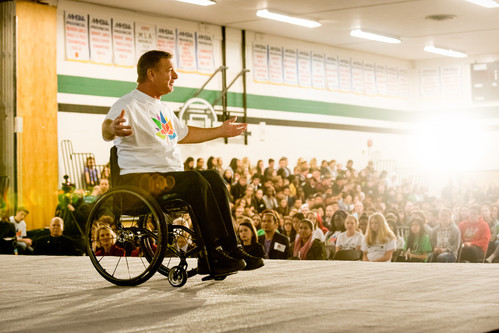 "Before this event, students were not overly attentive to the issue of accessibility. Now, that has all changed. The students at Vincent Massey are more cognizant of how one's environment can impact their learning at school, and their belonging in a community," Carolyn says.
Impact
Using the AIM toolkit was a great experience for their school, helping to focus their efforts and come together on an issue that is sometimes overlooked. 
"I highly recommend it! Consider the overwhelming success of our experience. We started with a small lesson about accessibility and over the course of the school year it grew into a school-wide accessibility event with Rick Hansen and members of the RHF team as our guests, a Barrier Buster Grant, and ultimately, a climate of continued changed for our school community," Carolyn says. "If you want to motivate kids to solve problems, this is a great resource to incorporate into your classroom—an opportunity to make a difference."