Meet Difference Maker Sébastien Whissell from É.s.c. Champlain in Chelmsford, ON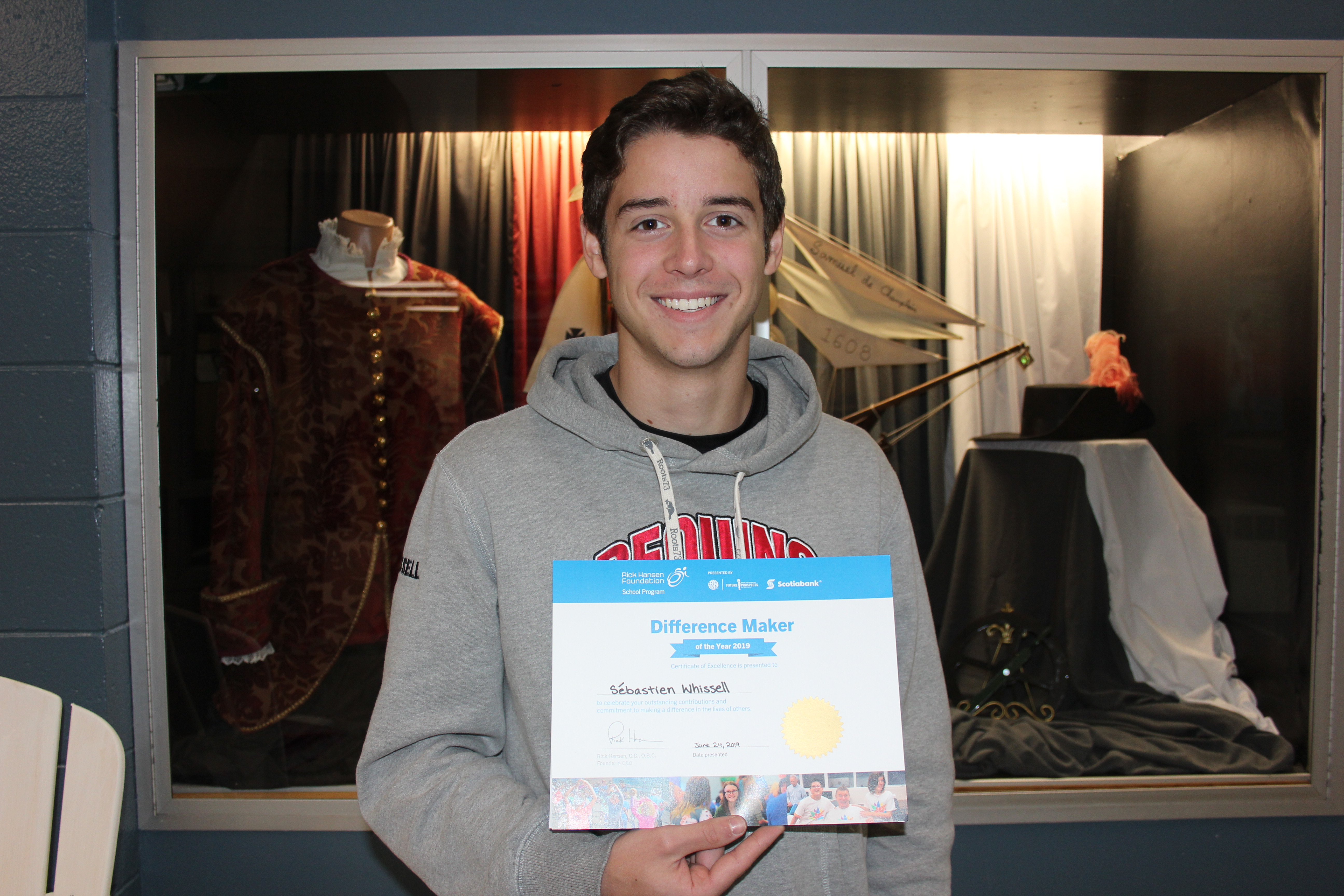 For Sébastien Whissell, being a Difference Maker means being involved in his community to better the lives of others—without counting the hours or expecting anything in return. He also hopes that it means others will learn from his example and be inspired to make a difference. When it comes to difference making, the soon-to-be 11th grader is definitely a leader. 
His first experience volunteering was with the iCanBike camp, a program which helps children with physical and cognitive disabilities learn how to ride a two-wheel bike independently. The experience was so enriching, that it led Sébastien to volunteer at his local hospital's greeter desk where he has since spent hundreds of hours volunteering, and that's just the beginning. 
The high school student is a part of a student-led committee that ensures the well-being of all students through initiatives that promote respect, empathy, and dignity toward others. He has also participated in a "homeless for a night" event, Christmas caroling to raise funds for less fortunate families, a 24-hour famine, and many community gatherings during the year. Sébastien is also a member of the WE movement and the lead of a project to raise funds to build a sustainable water source in Haiti. This past April, he also took part in a humanitarian mission to Guatemala with his school. "The experience was so moving," says, Sébastien, that he decided to join another mission there just a few months later. 
All of Sébastien's time spent devoted to these causes is a result of an intrinsic understanding of the importance of empathy and inclusivity. In his own words, "Most conflicts in society are influenced by a lack of inclusivity and closed-mindedness. This leads to a misunderstanding of our differences. By understanding, promoting, and accepting our differences, society will see less conflict and will be a place to embrace and strive from our differences." 
While working towards these values can have broader implications for our world, Sébastien says you don't need to think so big to make a difference. 
"Making a difference does not have to be on a large scale or have numerous people know about it. All that matters is to make a difference in one person's life." 
Unsurprisingly, Sébastien already has plans for when he graduates high school. After studying forensic sciences at Laurentian University, he would like to attend medical school to specialize in surgery. He's already well on his way: in the coming school year he will be working with his school's co-op program with a placement in health care. Something tells us he'll be making a difference in people's lives for a very long time.