Saheed Alawiye is a recipient of 2022's Rick Hansen Foundation School Program (RHFSP) Difference Maker of the Year award! The recipients are students, teachers and community youth leaders who made positive contributions to inclusion and accessibility for people with physical disabilities during the 2021/2022 school year, either in their school, greater community–or both!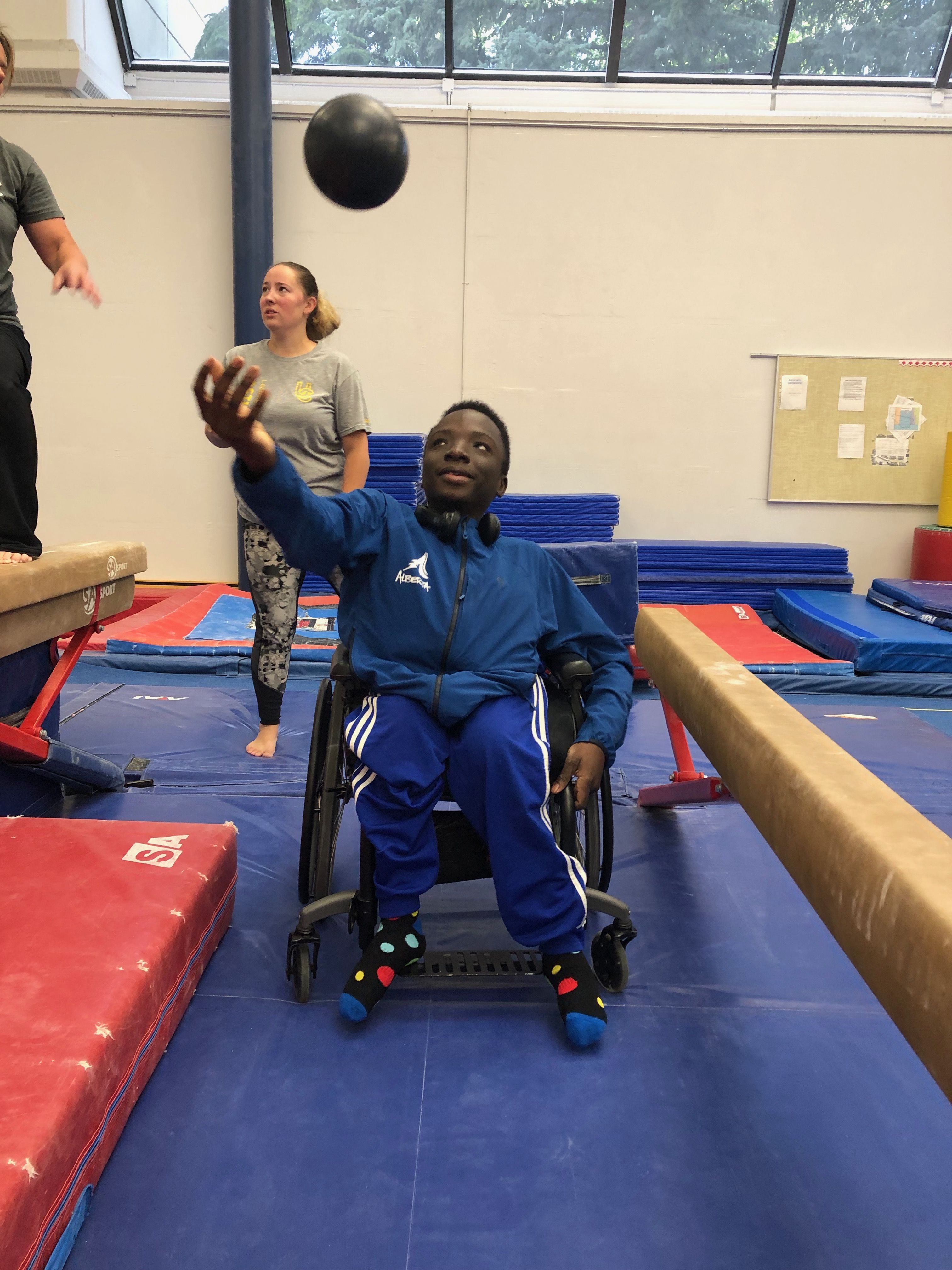 Bringing inclusive sports into school communities
As a sports lover and wheelchair user, wheelchair basketball has been an important part of Alawiye's life since he was six years old. However, when he began elementary school, he realized wheelchair basketball was not offered through the school's current sports programming. Seeing the need for greater accessibility, Alawiye took the initiative of introducing the sport to his school, creating a new level of inclusion for staff and students.  
As Alawiye progressed through the education system, he continued introducing wheelchair basketball to each school he attended –from elementary, to middle school and high school –encouraging both staff and students to view sports through a more inclusive lens.
"I've always done it," Alawiye says. "Each school that I've been to I've brought it [there] and we would play it. And they've continued playing after I left."  
To Alawiye, bringing the sport to his schools was important to create "more inclusion, and diversify the activities," so everyone can participate.  
Introducing wheelchair basketball helped remove the physical barriers that prevented students of all abilities from enjoying the same sports and activities. However, Alawiye's advocacy for inclusive sport also helped break down attitudinal barriers by highlighting an unmistakable truth: accessibility benefits everyone.  
"We all had a blast," says the 18-year-old, sharing the story of playing wheelchair basketball with his school peers.  
Through working with his coach and principal, Alawiye was able to arrange for students of different abilities to participate in a game of wheelchair basketball, showcasing how important – and fun – accessible sports are for all.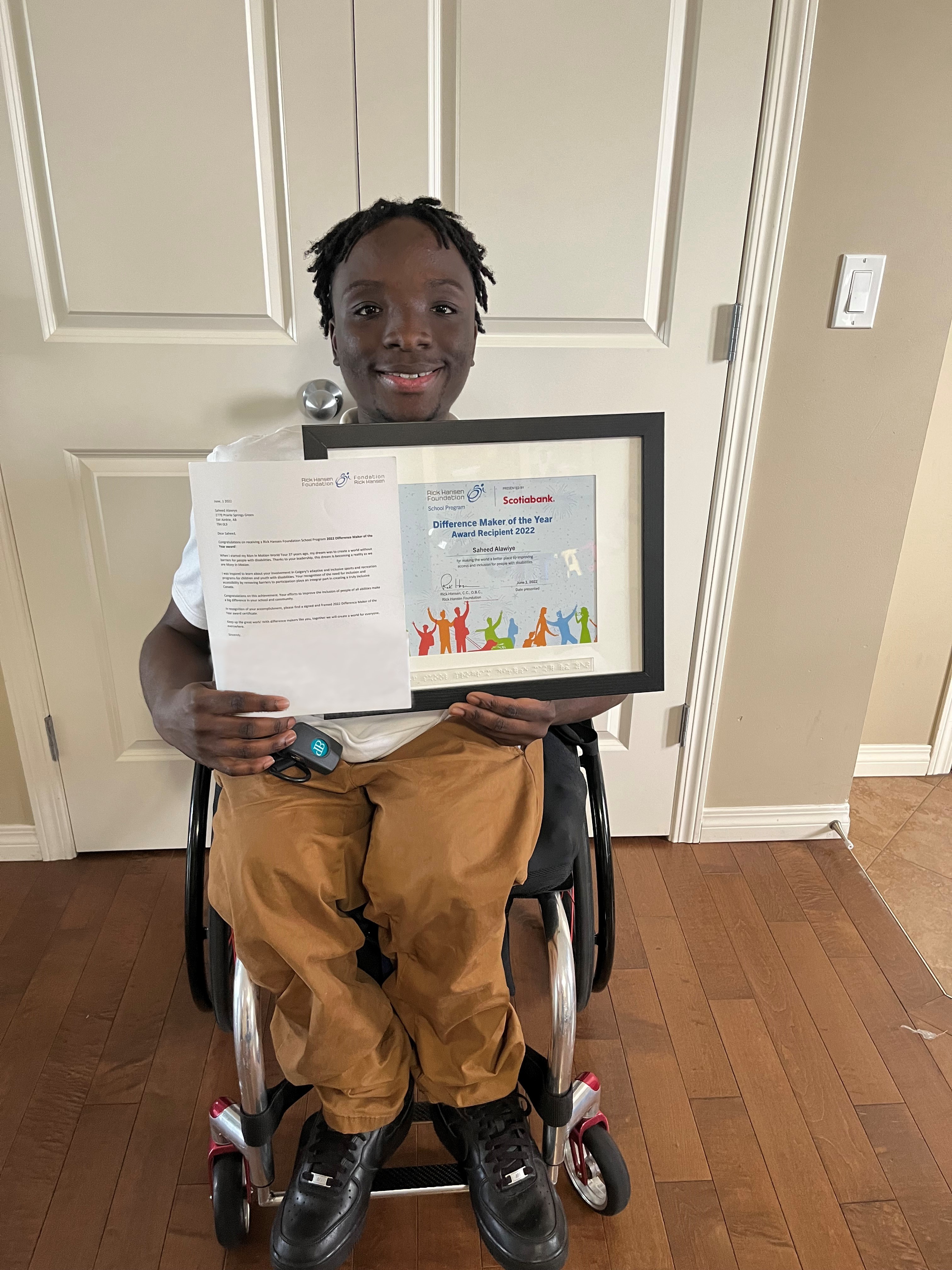 Advocating for the next generation
After seeing the positive impact accessible sports had on his school communities, Alawiye decided to further expand his advocacy. He began searching for new ways to connect youths with disabilities with the sports and activities they love. 
Determined to advocate for the next generation, Alawiye began speaking to more people about bringing inclusive sports and games into the community. He became a member of the Calgary Adapted Hub powered by Jumpstart Community Advisory Committee. Here, he provides guidance, insight and advocacy for adaptive and inclusive sports and recreation programs for children and youth with disabilities. He also helps address barriers to participation and identifies program gaps from a user perspective. 
"I just want everyone to feel included," he says.
"My parents taught me that whether I have a disability or not, I can achieve anything I want to. So, I started playing basketball and started racing and I really enjoyed it. I wanted to see more of that in the communities that I'm in."  
In 2022, Alawiye was a leader at a summer camp that offered accessible sports and programming for youth, allowing him to further support young people in enjoying the activities they love, and trying new ones.  
As he looks to the future, Alawiye says his goal is to "see more accessibility throughout different cities and places."
He encourages others to search for meaningful ways to be Difference Makers, too, sharing that if you notice a physical barrier, asking if someone needs assistance can go a long way. 
"Don't be afraid to lend a hand," he says.  
As a competitive athlete, Alawiye continues to be a Difference Maker by inspiring young athletes with disabilities through his own hard work and dedication. Alawiye recently competed in Para Wheelchair Track in the 2022 Canada Summer Games, held in Niagara, Ontario. He competed in the men's 100m and 400m wheelchair races, finishing in 11th and eighth place, respectively.