Difference Maker of the Year recipient raises awareness of Missing and Murdered Indigenous Women and Girls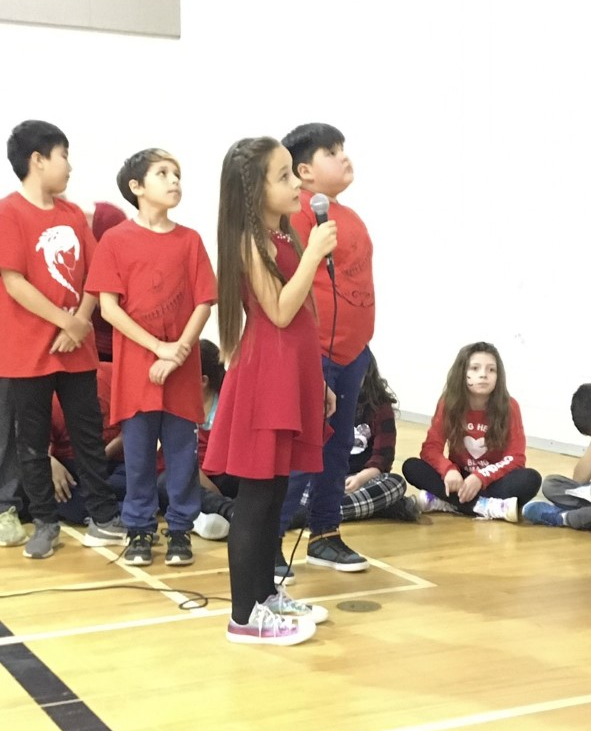 Discovering her passion for raising awareness about Missing and Murdered Indigenous Women and Girls (MMIWG) helped Milee Millea from Rexton Elementary School in Rexton, New Brunswick overcome extreme shyness and literacy struggles to educate and engage not only her classmates, but her whole community on the issue.
When Milee's teacher and nominator, Tracy Lynds, held a mock election and debate in class, she explained what it meant to be passionate about something. As she started to research topics for the debate, Milee, an Indigenous youth from Elsipogtog, learned about Missing and Murdered Indigenous Women and Girls, and discovered a passion of her own. She sought out classmates to join her party, worked diligently with her teacher on her speech, and in a debate that spanned three grades, Milee led her party to debate victory. "I felt happy when we won!" Milee says. "Everyone was excited for me." 
Inspired by Milee's newfound leadership skills, a friend suggested they organize a Red Shirt Day: a day of solidarity with, and in celebration of, persons living with disabilities, which happens on the Wednesday of National AccessAbility Week each year. 
Determined to follow her passion further, Milee wrote a persuasive letter to the principal, convincing them to let her team organize and present an assembly on Missing and Murdered Indigenous Women to the whole school. Having heard how the assembly helped raise awareness in Rexton, the local MMIWG organization made a trip to the school so that Milee and her friends could re-enact the assembly for them.
"Milee is such a natural leader and presenter," says Tracy.
When Milee found out she'd won a national award for her journey, "I was surprised!" she says. "I never knew my little project could be such a big deal."
Milee looks forward to doing more interviews about Missing and Murdered Indigenous Women and Girls, and continuing to use her newfound voice to raise awareness.