Lucy Ruth Diaz is a recipient of 2022's Rick Hansen Foundation School Program (RHFSP) Difference Maker of the Year award! The recipients are students, teachers and community youth leaders who made positive contributions to inclusion and accessibility for people with physical disabilities during the 2021/2022 school year, either in their school, greater community–or both!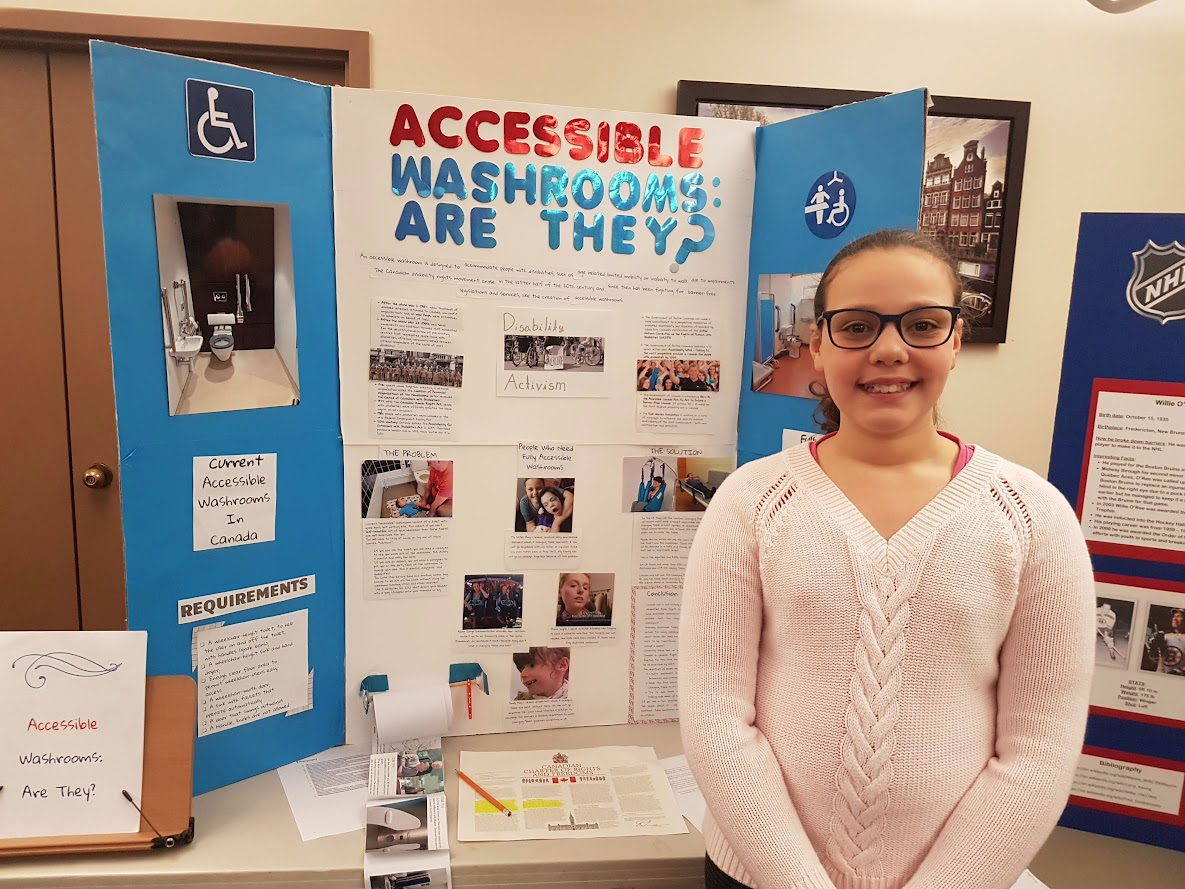 Born and raised in the greater Vancouver, BC area, Diaz is a student who has dedicated over four years to improving accessibility and inclusion in the built environment, with a focus on accessible washrooms. For her Heritage Fair project – an educational initiative that encourages students to research and share an aspect of Canadian history – Diaz chose to focus on the history of washrooms and accessible washrooms in Canada, to help open up the conversation around ongoing accessibility needs in public spaces. 
"The curious thing is that we did a lot of research, and that's how Lucy taught herself about Rick Hansen," shares Carmen Aguilera, Lucy's mother.
Accessibility has always been top of mind  
Diaz was a previous panel member in a meeting held by Spinal Cord Injury BC and is a current stakeholder and lived experience advisor in a study by Accessible Parks Canada. She is also a member of Children First Canada's Young Canadians' Parliament. Through her advocacy, Diaz was able to convince the BC Children's Hospital to upgrade their washrooms to include more accessibility features, such as an adult change table. Diaz describes accessibility advocacy as something she has thought about her "entire life."   
"My sister [Amy] has a disability," Diaz shares. "I'm the older sister, so it's always been about protecting her, finding a way for her to get out of the house and making everything accessible. So, I've always been conscious about it." 
While the importance of accessibility has always been a part of Diaz's life, she began focusing heavily on advocacy in 2018.  
"I think it was maybe less than a year or so before that when we realized that we couldn't take [my sister] out of the house because she was too heavy to move. She can't get up on her own so either my parents or I would have to carry her. Then we couldn't lift her anymore, and we realized that washrooms aren't accessible for us at all. So, we couldn't leave the house," Diaz says. "Another thing was that my sister's health deteriorated in 2018, so I took over most of the advocating. Prior to that, my mom had been doing it. 
"She just said, 'mama, I'm going to do it," says Aguilera. "She started going to the meetings, I was there, too, of course, but [there were times] I couldn't be there because Amy started crying and I had to go out. So, after that moment, we started pushing together for the [accessible] washrooms. And that's the moment when Lucy started working on the projects by herself." 
Making a difference in the community
Diaz recently attended the grand opening of the Tri-Cities Children's Centre in Port Moody, BC. Thanks to Diaz's advocacy, the Children's Centre includes an accessible washroom with an adult changing table, a hoist and enough room for wheelchair users to comfortably fit inside.  
"It's really exciting to finally have a place that if my sister needs any kind of support, we [can] go to that Children's Centre," Diaz shares. "It's really exciting to know that other kids who will be going there for any support can actually have a washroom where they can have everything that they need."  
Aguilera adds that having accessible spaces everywhere is a crucial part of making people with disabilities feel connected to society.  
"If you don't have that, you don't feel like a person. You feel like you're on the side of society," she says.
"To me it's very, very important that a person be integrated as part of society. 
Aguilera says that advocacy is something Diaz continues to be passionate about.  
"She's already the difference maker in this family," she says.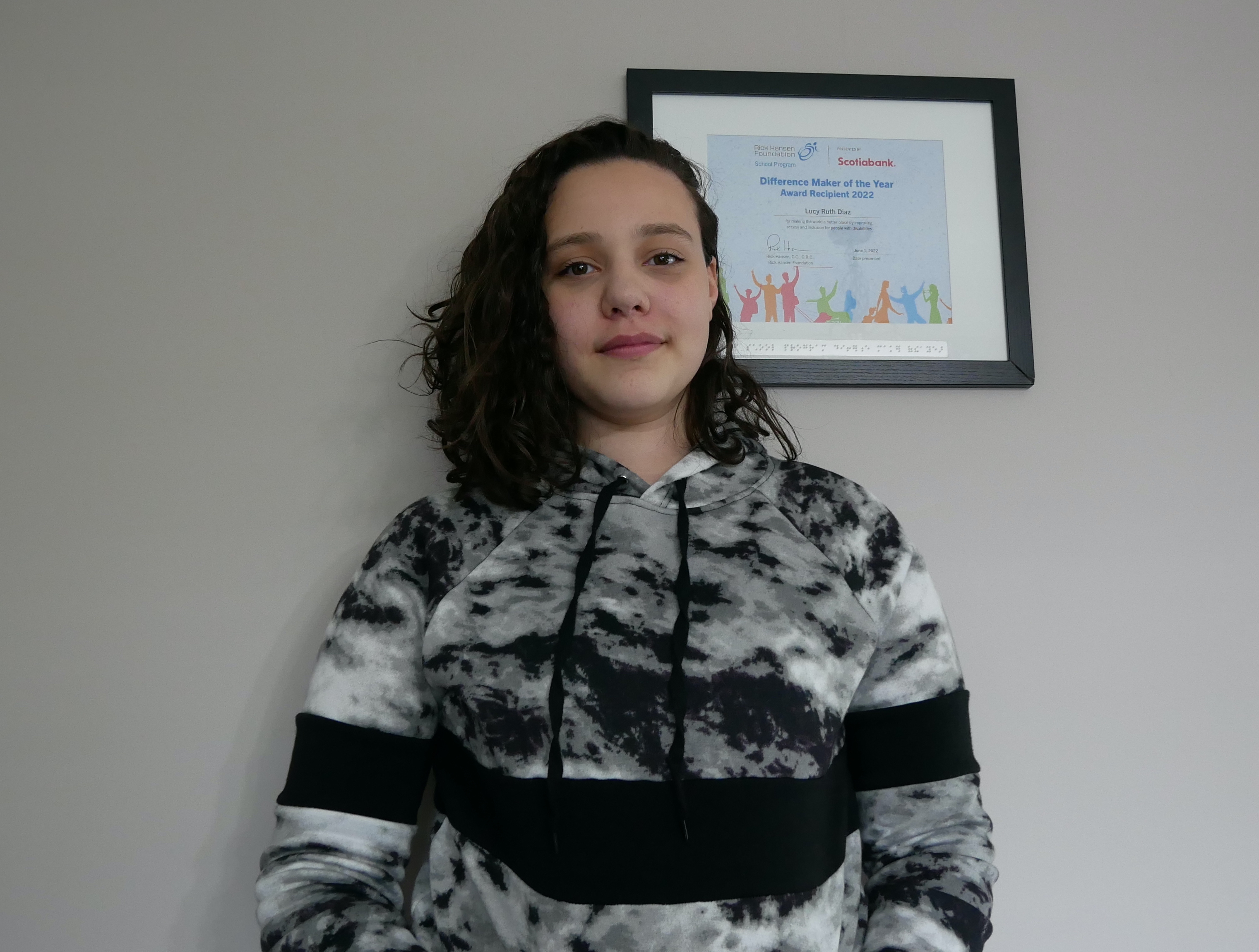 Diaz encourages others to help make a difference too by making spaces more inclusive and accessible.  
"Speak out," she says. "We need more people to create actual change. Even if you don't have a disability yourself or don't have any experience with it, even just mentioning it. Mention the lack of accessibility or any barriers that you see to any leadership to help them broaden their ideas of what accessibility really means." 

Diaz adds, "To anyone who is looking to advocate, don't be afraid. Don't be afraid to fill someone's inbox with emails. Make them realize 'I'm here and I'm not going to back down.' Be fearless."