Winnipeg, Manitoba – Young RHFSP Difference Maker is a Lifelong Advocate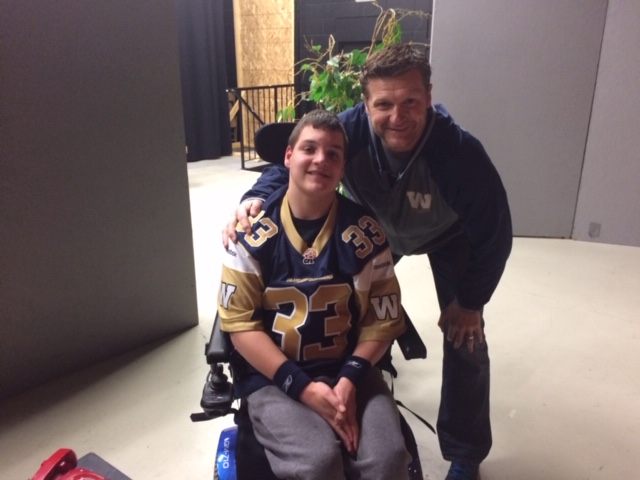 In many ways, Jordan Rogodzinski is a typical Canadian youth. He loves watching football and hanging out with his friends, but also happens to be an extraordinary community builder. Over the past few years he has spoken to various audiences to teach the importance of including people with disabilities. 
Like most of his peers, Jordan hadn't put a lot of thought into what he wanted to do after completing high school when he first entered Miles Macdonell Collegiate in Winnipeg, Manitoba. He did, however, know what he was passionate about: sports, and people. Once he put the two together, he immediately thought of retired Canadian NHL player and current sports broadcaster Shane Hnidy and realized he could be a sports journalist, combining his knowledge of local sports teams with his natural ability to connect with people. 
Working with his resource teacher, Jennifer Jantz, this new goal evolved into Jordan's very own sports show for the school. They began to film him conducting interviews with local sports personalities and uploaded them to his own YouTube channel, Jordan's 411 Sports Show. That was three years ago, and now with a team of fellow students as his production crew, they have created nearly 30 episodes. 
It's about more than just sports, though—as someone who was born with cerebral palsy and a cognitive disability, Jordan shows people the ability beyond the disability. Most of the time he uses a wheelchair, sometimes using a walker for short distances. Fine motor movements and reading pose challenges, so activities like writing, typing, and reading don't come easily. Instead, Jordan focuses on his strengths, like his charismatic personality, which is what shines through on his show. The insightfulness of his questions show a natural talent, and his guests are all clearly at ease in his presence. 
A Lifelong Advocate
Jordan has always been an advocate for creating a more inclusive community. He is an active member of the school's Best Buddies program which fosters friendships among students with and without disabilities, promoting social interaction. He has also spoken at school assemblies and can often be seen chatting with people in school hallways. 
Getting to know people for who they are is a key strength of his, and one that has earned him many genuine friendships. Not only has this role in the school's community made Jordan wholly accepted and included, it helped create an inclusive environment that is now woven into the culture at Miles Macdonell.
His show has also helped demonstrate that everyone has something to offer, even when facing barriers. This caught the attention of the United Way Youth Forum, where he spoke last year about the benefits of including people with disabilities. 
Recently, Jordan became an Ambassador for the Rick Hansen Foundation, delivering engaging presentations at local schools to raise awareness about what it's like living with a disability.
Gaining Momentum
The United Way isn't the only group who has taken notice of Jordan's show. Both the Winnipeg Jets and Winnipeg Blue Bombers have featured Jordan's 411 Sports Show at their games. This is a major highlight for Jordan who happens to be a huge fan of the two teams. 
Shaw TV is another fan of his show, and they have been working with him and his team on improving production quality. Jordan's production crew took part in a production workshop with Shaw Cable. He then gained more real-life experience when he had the opportunity to spend a day working at Winnipeg's talk radio station CJOB, and worked alongside sportscaster Kelly Moore. 
Another CJOB sports voice, Bob Irving, has been a guest on Jordan's show, as well as Winnipeg Blue Bombers coach Mike O'Shea and former Winnipeg Blue Bomber-turned sportscaster Doug Brown. 
Jordan's show gained further recognition when CTV News came to do a story about him and aired it on their national news channel. When asked who his dream guest would be, he told them "Milt Stegall", former all-star receiver for the Winnipeg Blue Bombers. This dream came true when an agent of Stegall's happened to see the interview, and arranged for the sports star to feature on Jordan's show. 
A Role Model for Change
Jordan has a strong community supporting him, but it was using his own strengths that truly made all of this happen. His passion for local sports became a driving force to bring people together and create his show. This has also empowered other students who have joined his production team, and created an opportunity for them to actively practice inclusion.  
With the guidance of Jantz, Jordan focused on what he loved, and what he was good at. As a result, he discovered his purpose and is developing a strong sense of self which has ultimately helped him envision his role in society. His continuous commitment to these things has proven what is possible when you choose to see the ability, both in yourself and others.