Archie Allison is a recipient of 2022's Rick Hansen Foundation School Program (RHFSP) Difference Maker of the Year award! The recipients are students, teachers and community youth leaders who made positive contributions to inclusion and accessibility for people with physical disabilities during the 2021/2022 school year, either in their school, greater community–or both!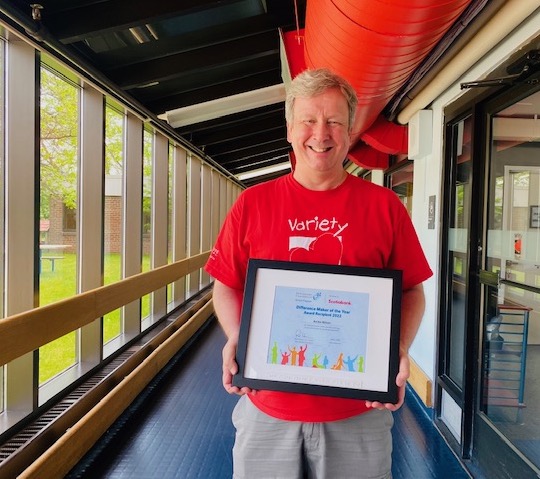 A youth leader and coach, Allison has been dedicated to accessibility advocacy and inclusion for nearly 40 years. He is the Director, Access and Awareness, at Variety Village / Variety – the Children's Charity (Ontario) – a charitable organization that focuses on providing inclusive and accessible programs for children with disabilities. Through his role, Allison focuses on creating a pathway to participation for children following a diagnosis, injury or new interest in a sport or activity. He also offers support and program management for sports such as wheelchair basketball, athletics/track and field, weightlifting, Taekwondo, swimming, and VOLT hockey – an accessible form of hockey for children of all abilities.  
"It's always been a passion of mine to watch the excitement, the interest and the events for people to play and participate or compete," Allison shares. "When I started at Variety Village in 1983, I found a place where everybody feels like they belong and was included in every activity. It continued with the momentum and excitement about seeing people get involved in things they thought they couldn't do, or were told they couldn't do." 
Allison has been passionate about advocacy for accessibility and inclusion since he was young.  
"In my neighborhood, there was a person who used a wheelchair that lived close by. We used to always ask, 'how come he doesn't come out to join us outside?' We encouraged him to join us, but it intrigued me that he wasn't part of other programs and activities," he says.
Learning more about creating change
In high school, Allison was given his final work placement at Variety Village where he began learning more about how to create meaningful change.  
"It was the first time I was aware of a place like this where everyone is welcome, belongs, everyone is active and everyone is included," Allison says. "It really built my interest in the field of mobility, ability, behaviour, communication styles, and a place where everybody can get involved." 
His childhood friend is still a member of Variety Village to this day, and Allison continues to search for new ways to make inclusive spaces for all both at Variety Village and in the greater community. 
"I'm always curious about how to make our schools, communities and workplaces more accessible and more inclusive on all levels. In addition to, not just Variety Village, but all communities and all neighborhoods to get people active and doing the things they enjoy," he says. 
Allison adds that the ongoing message for students, athletes, staff and coaches at Variety Village has always been focused on,
"the excitement around the importance and priority for accessibility, and the impact it has on all of us." 
Navigating the pandemic
When the pandemic shut down many of Variety Village's in-person programs, Allison, along with other staff members, were determined to keep members engaged. They moved many of their programs into a virtual space and were proactive in reaching out to keep everyone connected. 
While some classes and programs have returned to in-person, some remain remote for increased flexibility and accessibility. Allision adds that the new programming has created more opportunities and excitement around accessibility awareness and inclusion. 
"I couldn't even share with you the amount of messages we get from students saying that at the beginning of the instruction they had very little awareness or knowledge of what's out there, to the conclusion of the class saying that there's a new excitement around getting involved as either as a coach, volunteer, staff member or at an organization that promotes accessibility inclusion for all," he says. 
Allison says one way that others can be a Difference Maker is to genuinely connect with one another, whether it be in the classroom, through activities and programs, or in the greater community. 
"The biggest thing is to connect people, and bring people together," he says. "Learn more about the people around you. Learn about what makes us similar, learn more about what makes us unique and how we can appreciate each other because you are who you are."  
Additionally, for students, particularly those at the post-secondary level, getting involved with an organization that promotes accessibility inclusion can "show the effect and impact it has on all of us in terms of where we live, play and how we participate."  
Allison adds that starting the conversation around disability awareness and inclusion can help spark the incentive for advocacy among students, and encourages others to begin these meaningful dialogues.  
"It creates a space for people to be advocates and community champions to make sure their families, friends, colleagues and connections can enjoy everywhere, just like we all should," he says.