A Bright Future for Difference Maker Alexis Holmgren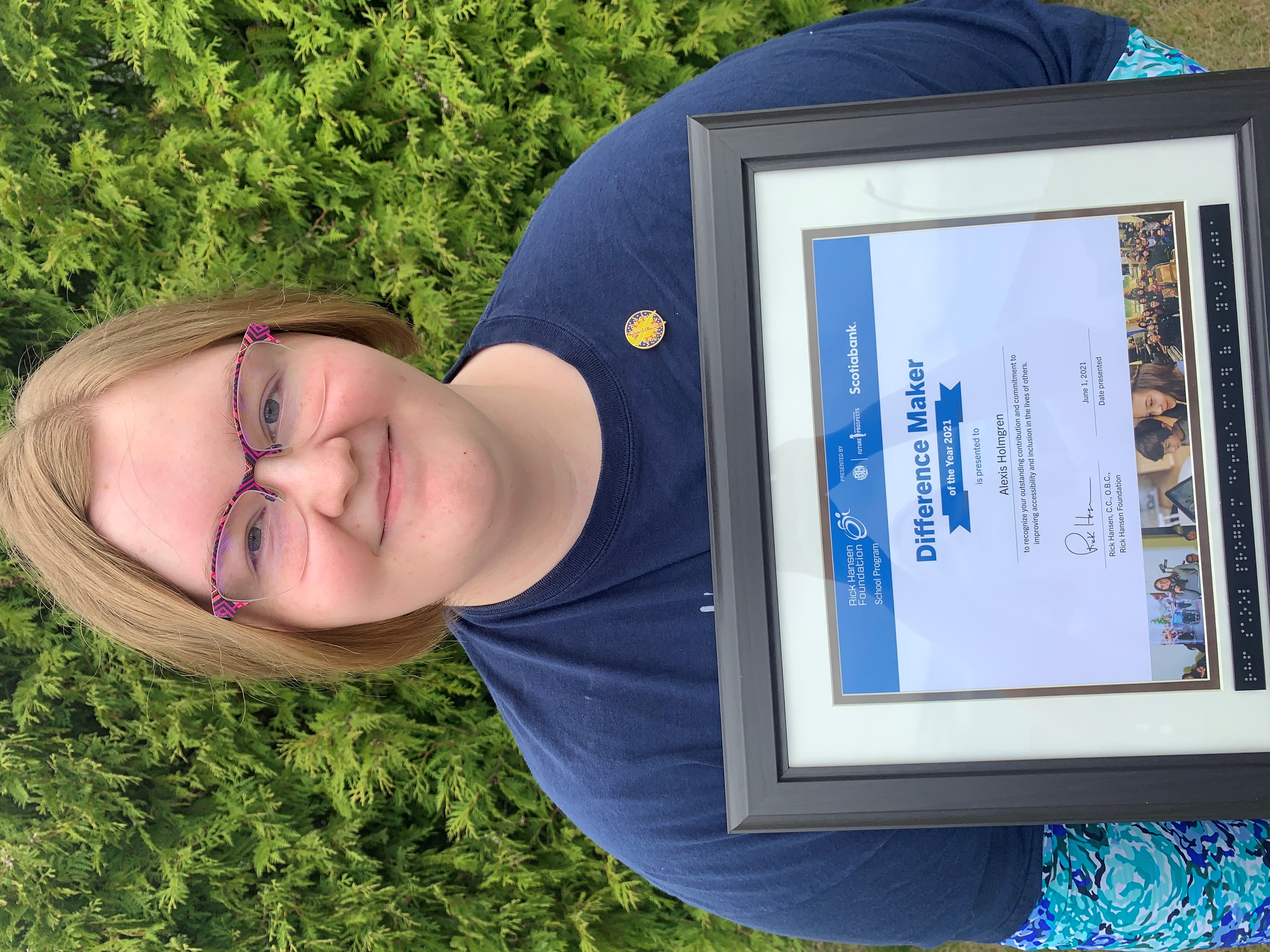 Alexis Holmgren's journey to become a Difference Maker started when she first encountered discrimination when she was 12 years old.
The appearance of attitudinal barriers coincided with a diagnosis of a rare heart condition called congenital long QT syndrome, which meant Alexis was at a high risk of sudden cardiac arrest. Before she underwent surgery to have an internal defibrillator (ICD) implanted, she carried an automated external defibrillator (AED) around everywhere she went.
"I was stopped from continuing with extracurricular activities that I had actively participated in for years before my diagnosis even though my cardiologist deemed it okay for my participation," recalled Alexis. "People told me I was a liability. An adult leader of one of my groups told me that if my AED was needed, it would 'endanger the lives of others if it needed to be used on a hill or in the rain' – which is false."
Alexis recognized this treatment as being exclusionary. With the leadership skills she developed as a Girl Guide in her hometown of Red Deer, Alberta, she decided to do something about it.
"I realized if this was happening to me, then it was happening to other people too," Alexis said. "I knew what was happening was wrong and I decided that I wanted to change this. Not just for me but for all of those who would come after me so hopefully they would never have to face the same barriers as I did."
Alexis, a recipient of this year's Rick Hansen Foundation (RHF) Difference Maker of the Year Award, started her journey as a diversity, inclusion, and accessibility advocate. She became a Youth Accessibility Leader through the federal government's Enabling Accessibility Fund (EAF) in 2019.
In addition to her heart condition, Alexis also developed solar urticaria, which is a rare allergy to ultraviolet light and the sun. When the 20-year-old is exposed to sunlight, she experiences a similar reaction to those who have food allergies. Within 30 seconds of exposure, she is covered with hives and experiences nausea, headaches, and dizziness. The reaction leaves Alexis so exhausted that she can sleep for 24 hours straight. She also carries two EpiPens with her as the host of reactions can also include anaphylaxis.
"Any UV light on my skin leads to excruciating pain that can only be described as feeling like I have been lit on fire," she added.  
Alexis can only go outdoors if the UV index is very low, or at nighttime. If she leaves her house during the day, she must wear UV protective clothing from head to toe. As a result, she misses out on joining many of her peers for daytime activities, including swimming at the local pool. 
However, Alexis learned swimming was not out of the question after attending a summer camp in New York called Camp Sundown for youth with sun allergies. The windows at the indoor pool were covered with a UV film to allow those even with extreme sun sensitivities to swim during daylight hours.
This experience was life-changing. So, as a Youth Accessibility Leader, she got to work with the idea of installing UV film at her local pool at G.H. Dawe Community Centre so she, and others with sun sensitivities, which affects as much as 20 percent of the global population, could enjoy swimming. City council was receptive to the idea and Alexis received financial support with her successful grant funding application through the Enabling Accessibility Fund, a fund set up by the federal government to grant money for accessibility improvement projects. The UV-blocking film was affixed to the windows in 2020.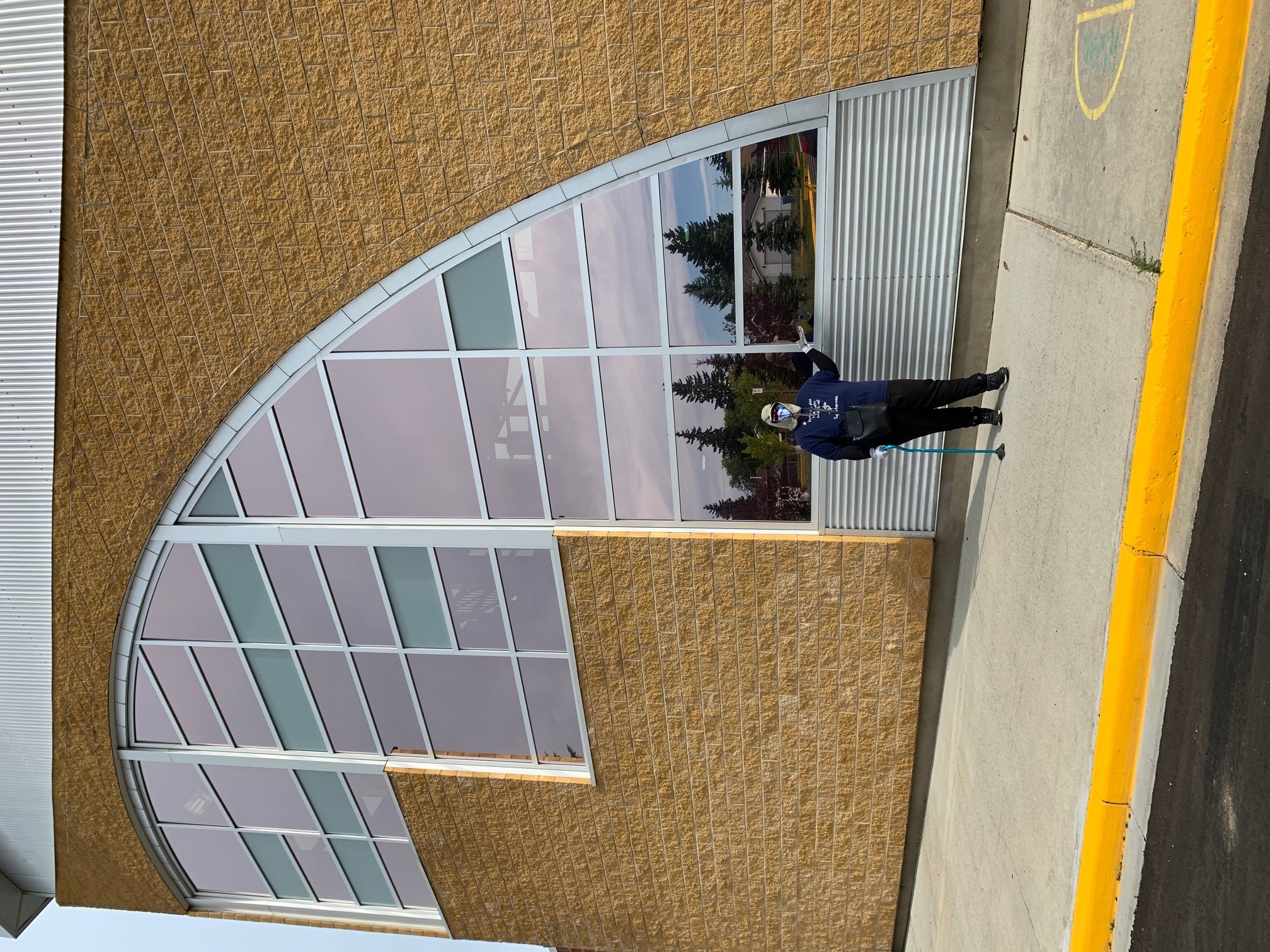 "A key part of getting people on board with the project was educating them on sun sensitivities. Many had never heard of it at all and a lot of people were surprised at just how common it can be," Alexis said. "The reaction from the community has been overwhelmingly positive. Additionally, I had a few people who also live with sun sensitivities write to tell me that they are thrilled about the project. This means the world to me, and it's exactly why I do what I do. I am so glad I could make a positive difference in their lives."
Receiving the RHF Difference Maker of the Year Award was beyond Alexis's wildest dreams.
"When I found out I received the award, I was so happy that I literally let out a joyful scream. I could not stop smiling. I think I was a little shocked at first, but once that wore off, I felt so incredibly honoured and grateful."
For Alexis, being a Difference Maker has meant initiating positive change in the world. To be recognized by Rick, whom she met when she was 16 years old at the RHF Youth Leadership Summit in Ottawa in 2017, meant the world to her, she said.
"His story and advocacy efforts have been a massive inspiration for me over the years when pursuing my advocacy projects. To then receive a letter from him after winning this award saying HE was inspired by ME and my project was absolutely amazing," Alexis said.
"This award helps remind me, especially on the hard days, that what I'm doing for accessibility does matter and is truly making a difference in the lives of many people."