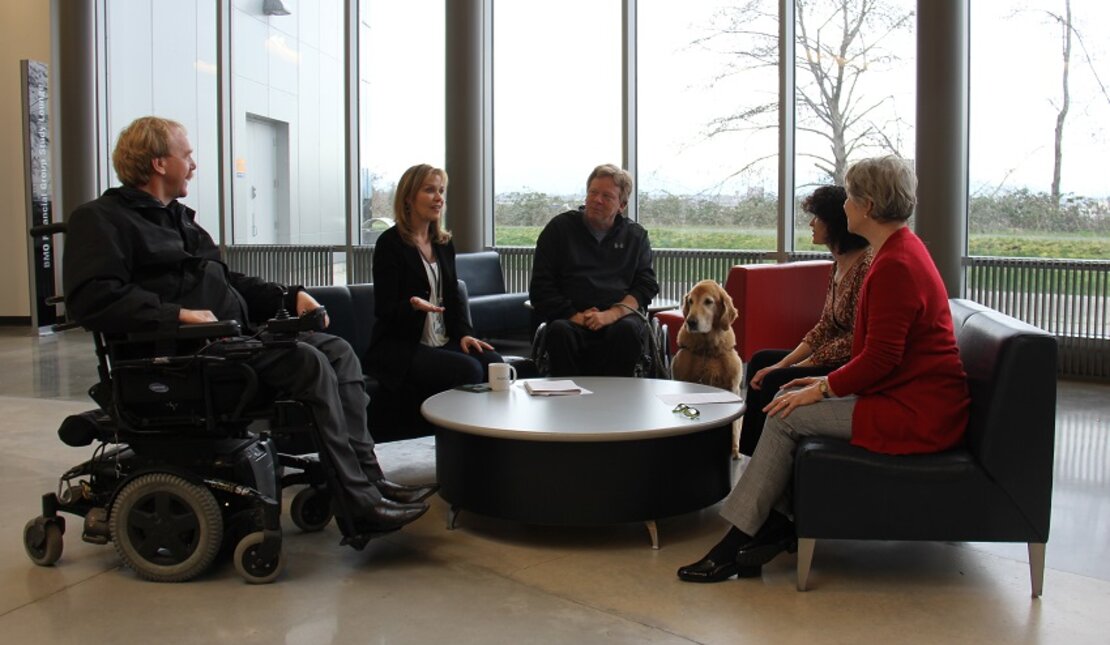 By Guest_Blogger
On June 20, 2016
RHF News
People with disabilities have traditionally been underrepresented in the Canadian workplace, but that's changing.
The growth and expansion in certain industries (like the technology and hospitality sectors) combined with the number of Baby Boomers approaching retirement, and the lack of young workers to replace them, means the Canadian workplace is going through a huge shift - and we are beginning to see workforce shortages in many sectors. Recruitment and retention of people who've been traditionally under-represented in the Canadian workplace, like those with diverse abilities, is becoming a priority for businesses.
Companies like SAP Software Solutions, Tim Hortons and Vancity are leading the way with inclusive recruitment practices and now others are beginning to adjust their human resources (HR) processes to ensure their businesses are more inclusive and welcoming to various groups of talented people.  
Whether you are considering a career move, entering or re-entering the workforce, there has never been a better time for people living with disabilities to explore viable career options. How can you prepare and position yourself on the right career path?  
Where to Start: Identifying Employment Opportunities
Finding a job to make money is good, but people are generally more productive, engaged, happier and have a greater sense of contribution if they choose a career that they're actually interested in. For example, if you love interacting and talking with people, choosing to work in the service sector (retail, tourism or hospitality) may be a good career choice. If you like helping others, perhaps health care or social services is a better field for you.  Choosing a career that requires education, training or certification may also lead to increased options as you gain more experience, and with that comes increased pay. Some people don't yet have a clear sense of what careers they would enjoy the most. A good resource to research different options is the book 'What Colour is Your Parachute' by Richard Bolles, who also produces some great online articles
like this one
that may be helpful.
It's also a good idea to research jobs in demand in your province. You can do this by visiting the province's Labour Market website (listed below). This will provide information on the top jobs available in your region, as well as salary rates and some general requirements for those opportunities.
Connecting to Employment and Career Search Services
Do online research of companies who have been recognized for being a top employer, or those committed to workforce diversity and inclusion, and follow their job boards or social media channels. When an opportunity comes up, you can be the first to apply to work with those organizations.
There are many free career services that can help with your career search in B.C and across Canada.  Some organizations provide career counselling and can help with researching, getting training for, and applying for careers. Others have job postings and/or are recruiting on behalf of employers who are committed to inclusive recruitment. Here are some to check out:
BC Partners in Workforce Innovation
:  A 3-year pilot that helps employers recruit and retain people with disabilities.
Work BC
: Employment Services Centres are available across the province to help British Columbians find work.  You can access job search resources, employment planning, skills assessment, training, work experience placement and more.
Neil Squire Society
: The Neil Squire Society is the only national not-for-profit organization in Canada that empowers Canadians with disabilities through the use of computer-based assistive technologies, research and development, and various employment programs. The Society's
Technology@Work Program
may be able to provide assistive technology to address workplace barriers.
Other employment services you might consider:
Recruitment search firms like Drake, Aplin or Robert Half
Put Your Best Self Forward
Two of the most common pitfalls that candidates make are one, not putting enough effort in to preparing for the interview, or two, not putting enough effort into their appearance. It really is essential for anyone in career search mode to always "put your best self forward" at every stage in the interview process.
Presenting your best self forward includes first and foremost, submitting up-to-date, typo-free resumes, cover letters, and online applications, clearly framing your experience in relation to the opportunity, enthusiastically communicating interest in the position, and being able to show how your specific qualities or attributes make you an ideal candidate for the job and that company.
If you get an interview, putting extra effort into your appearance shows that you want to make and leave a positive first impression. This means being dressed in appropriate professional attire and being well-groomed (clean shaven, neat hair, etc).
For the interview, come prepared to discuss your strengths in relation to the job you are applying for, and speak about yourself and past experiences in a positive way.  Focus on your abilities.
Be candid about what, if any, accommodations would be required to allow yourself the best possible scenario in the interview and on the job. And come prepared with solutions – if the employer asks what they can do to bring out the best of your abilities, or what they would need to do to set you up for employment success, you'll have them ready.
Many companies are recognizing that the talent pool of people with disabilities has often been overlooked or under-utilized in the past, and things are changing for the better with more inclusive hiring practices. These resources should help prepare you for the wave of employment opportunities ahead!
Authour: An HR Professional and Recruitment Specialist with BC Partners in Workforce Innovation, Jamie Millar-Dixon encourages people with disabilities to get ready for the upcoming wave of employment opportunities.