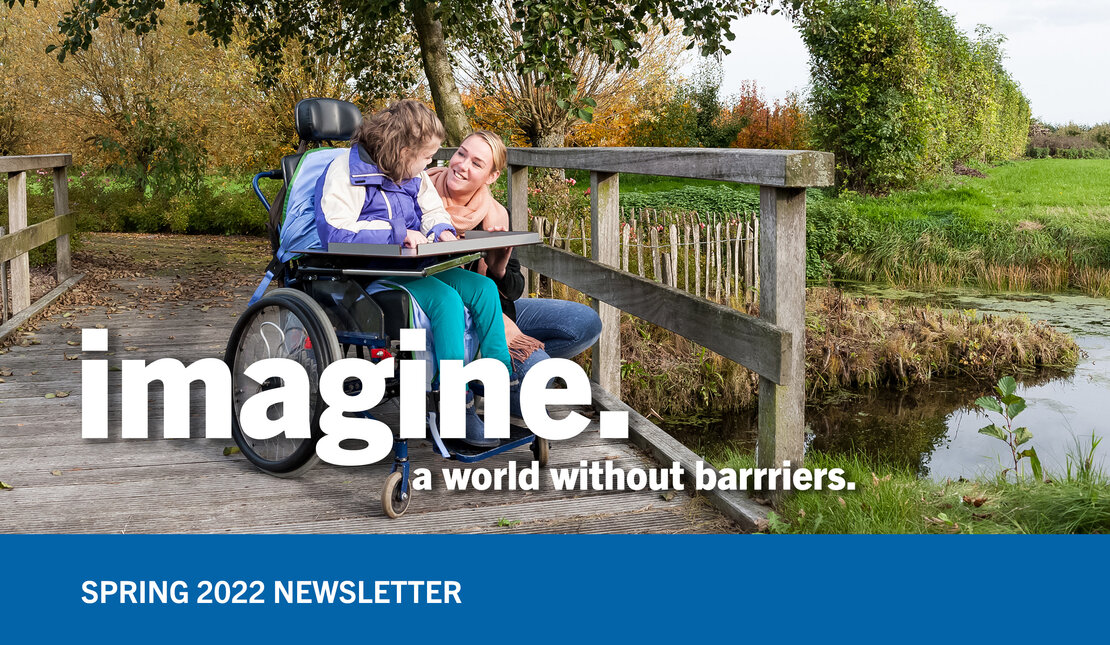 By RHF
On May 26, 2022
RHF News
The latest updates on the programs at the Rick Hansen Foundation for Spring 2022.
A Message from Doramy
On May 22nd we celebrated the 35th anniversary of the end of Rick Hansen's Man In Motion World Tour. I would like to quote our Founder and remind us that "the end is just the beginning." Today, we are making real strides toward removing barriers for people with disabilities in the spaces where we live, work, learn and play. 
Governments are investing in accessibility legislation, which is especially timely as Canada moves into post-pandemic infrastructure development to reignite the economy. Professionals in the building industry are beginning to think accessibility first – rather than it being just an add-on. It is heartening to witness the growing movement towards a more inclusive and accessible Canada, especially when the built environment has a long history of being exclusionary to anyone with a disability. The RHF School Program continues to reach schools across the country and the recent introduction of our Youth Leadership Council will inspire new conversations with youth from coast to coast to coast. 
We have so much to celebrate. And with your support we are truly building a country where everyone can go everywhere. I am eternally grateful for your support of our programs and initiatives that increase accessibility for Canadians with mobility, vision, and hearing disabilities. Society is much stronger when it includes all of us. And we couldn't do it without you. 
Warmest regards, 
Doramy Ehling 
CEO, Rick Hansen Foundation 
---
In This Issue
Empowering Our Future Leaders
New Library Helps Teach Important Lessons
Connecting Disability Inclusion & Science
Accessibility Upgrades Enable Connections with Nature 
Meet Chris Stigas, RHFAC Professional 
What You Say Counts 
The World Comes Together for SCI Research 
Breaking Down Sound Barriers
---
Empowering Our Future Leaders

Rick Hansen has always believed in the power of youth to change the world. With your incredible support, the RHF School Program team formed a Youth Leadership Group last fall. The group is made up of five alumni from the Canada 150 Youth Leadership Summit, an event hosted by RHF in Ottawa, ON, in 2017 that connected 50 young leaders from across the country for workshops, leadership training, and other special events. 
The alumni group regularly meets to discuss ways to promote accessibility and inclusion through group projects. The Youth Leadership Group held a panel event at the United Nations Global Disability Summit on February 16, 2022. The panel, titled 'The Perspective of Youth with Disabilities in Education', was moderated by RHF. Students held a lively conversation about the state of accessibility and inclusion in the Canadian school system. The group agreed that advocacy drives cultural change. Encouraging sharing stories in the classroom goes a long way to removing stigmas about disability. 
"Sharing my lived experience provides education to help people better understand what it's like," said Alexis Holmgren. "This introduces a real human lens to the conversation and allows many of the misconceptions to be dismissed and attitudes to change as we are seen as people." 
Added Mihai Covaser: "There's no way that you should be expected, as an educator, to know what to do with a specific student before having a conversation with them. Even if you have some knowledge of what disability needs look like in your classroom, just have that conversation." 
---
Empowering Youth
New Library Helps Teach Important Lessons
A big part of culture change is changing mindsets. This is why the Rick Hansen Foundation School Program (RHFSP)'s new and improved online resource library, and its wealth of engaging materials, are critical to creating an inclusive Canada. Youth are society's biggest opportunity to create meaningful change. Yet, accessibility and inclusion are not currently required components of the curriculum for Kindergarten to Grade 12 students. 
The online resource library is made to assist educators in teaching important lessons about diversity and inclusion. It contains activities, toolkits, videos, and books – in English and French. All the lessons are based on opening minds and hearts, as many children and youth have not had the experience of understanding the perspectives of the 1 in 5 Canadians living with a disability. 
Thanks to your valued support, we recently updated the online library to make it easier to access relevant resources. Relevant resources for grades K through 12 are now available with the click of a button. And they're also accessible, including activities that are screen reader friendly, books that include audio, and videos that include captioning and sign language (ASL and LSQ). 
"I found your free materials and was mind-blown. They are such a useful and well-crafted set!" — elementary school educator Angela McCabe 
---
Empowering Youth
Connecting Disability Inclusion & Science

Understanding science helps youth relate to the world around them, and we're pleased to be able to offer science education as part of RHFSP's fun and engaging activities and lessons. A search of "Science" in the online resource library brings up the lesson We Are Like Snowflakes, where younger students learn that each snowflake is unique, just like people.
For older students, the Science lesson teaches youth how to design a transport device suited for a specific activity for a user with a disability. Thanks to your generosity, we are able to offer educators so many ways to teach valuable lessons about accessibility and inclusion!
See the full resource library at RickHansen.com/Resources
---
Accessibility Upgrades Enable Connections with Nature

In the heart of Rick Hansen's hometown of Williams Lake, British Columbia, is the Scout Island Nature Centre, a sanctuary of protected habitat and wildlife, and a well-loved destination in the Cariboo-Chilcotin region. 
The main building, now 42 years old, was worn. There was no accessible entrance, a barrier for many considering 250 school classes and seniors visit every year. Your support of the RHF BC Accessibility Grants Program has allowed sites such as the Nature Centre to make several improvements so everybody is welcome through its doors. These included: a concrete ramp with a rest point part way, metal hand railings, an expanded and covered porch area to accommodate those using mobility aids, a widened front door, and a push button door opener to allow people to enter the building independently. New concrete stairs and railings were installed as another safe option. 
"I used the old ramp and entryway all the time to get in and out of the Nature House for work and for social outings and it was not easy," said Sandra Stuart, bookkeeper at the Nature House. "I didn't always trust the railing and the ramp was way too steep. The renovations helped remove those obstacles." 
"Now, engaging with nature at the nature centre is within reach of everyone" 
---
Meet Chris Stigas, RHFAC Professional
My name is Chris, and I am the product development lead for a company that specializes in both accessible products and consulting for active people with accessibility needs. 
I realized I wanted to consult for accessibility soon after my own spinal cord injury. I took the Rick Hansen Foundation Accessibility CertificationTM (RHFAC) Training course which gave me another level of expertise in addition to the lived experience of somebody who uses a wheelchair. Before my accident I was an electrician, so I was already familiar with blueprints and construction. All my skill sets have come to this one focal point. After completing the course, I took the required exam to earn my RHFAC Professional designation. 
The people I'm consulting for as an RHFAC Professional are looking for this type of knowledge; they actively want to hear what recommendations I have for them. And that makes what I do all that much more rewarding. I really feel like what I'm doing is making a difference to the hundreds of thousands of people who access that particular site. The RHF Accessibility Professional Network (APN) provides a platform to help members of the accessibility community achieve success through educational webinars, online discussion forums, job board, and networking opportunities. 
I'm so grateful to the APN and to the donors who have supported its growth. I have benefited from working with like-minded professionals, and I have learned so much about design considerations for people with hearing and vision loss through the APN's webinars. It's an exciting time as more people and organizations consider accessibility as part of their building and renovation plans.
---
What You Say Counts

When we communicate thoughtfully and with intention, we promote equity and advance social progress for people with disabilities. That was the focus of RHF's 'The Power of Inclusive Language' panel, held on International Day of Persons with Disabilities. Our amazing line-up of panelists spoke about how language is about acknowledging that disability is an individual's lived experience and how inclusive language isn't about having a list of 'correct' words. 
"A list of words doesn't change anything; attitude is what will make a difference," said panelist Wissam Constantin. 
"A person can say all the right words and still not have the right approach, the right tone, or the right attitude." 
The more we share ideas, the more we all contribute to a shift in attitudes and culture. Thanks to supporters like you, we can continue to foster these important conversations.
---
The World Comes Together for SCI Research

Mend the Gap integrates scientific advances and accelerates efforts towards a regenerative treatment for spinal cord injury (SCI). The initiative, based out of the University of British Columbia (Vancouver), brings together the world's best scientists, engineers, clinicians, translation specialists, and the SCI community to address the challenge of repairing the spinal cord. 
"The unprecedented diversity of expertise of the team allows us to simultaneously address the many challenges by bringing to bear methods in neurobiology, ethics, robot surgery, materials chemistry, imaging, and rehabilitation," stated Mend the Gap director John Madden. 
The Mend the Gap team, which includes ICORD researchers Drs. Wolfram Tetzlaff, Brian Kwon, Dena Shahriari, Michael Berger, Corree Laule, Babak Shadgan, and Stephanie Willerth, recently received $24 million from Canada's New Frontiers in Research Fund 2020 Transformation stream to investigate using biomaterials—and soft gels in particular—to heal the injury. Thanks to your generosity, RHF is proud to support this team working so hard to improve the lives of those living with SCI. 
---
Breaking Down Sound Barriers

Cathryn Wellner and Robin Jarman were excited about attending an award-winning Canadian musical. But their excitement turned into dismay. Robin, who wears a hearing aid, had difficulties hearing the performance, and spent a large part of the evening fiddling with his hearing aid. 
"It was a fabulous production, but the sound was not as clear as it could have been," said Cathryn. "At the end of it, I said, 'Oh, I'd love to see another one of these productions. Robin said, 'never again.'" 
Installing a hearing loop is the ideal solution for venues, said Robin. A hearing loop provides a magnetic, wireless signal that is picked up by the hearing aid when set to the 'T' (telecoil) setting, giving users access to a crisp and clear sound experience. Unfortunately, many venues opt for providing headsets instead. 
"The problem with hearing headsets is that seniors and many others do not want to 
be wearing them," said Robin. "It's telling everybody, 'I have a problem.'
"It is a tragedy that we are ignoring seniors and anybody with a hearing loss." 
 
It's not just theatres; the issue extends to every building and business that does not consider those with hearing loss. This is why education and awareness around disability are so important; we need to utilize technology and universal design principles that allow for buildings to be used to the greatest extent possible by people regardless of ability to create a truly inclusive society. 
Added Cathryn: "It breaks my heart to see Robin, who is such a vibrant, alive, gregarious person being in some place where he should be able to enjoy himself, relax, and engage in conversation. And be shut out."
---
Gift of a Lifetime

Did you know you can leave a legacy through a planned gift to RHF? A planned gift is a donation made outside of your current income which allows you to contribute to improving the lives of people with disabilities with little or no effect on your lifestyle today. This can be done through your will, securities, your RRSPs or life insurance.
Your planned gift is tailored to you and your family's needs and goals, life stage and financial situation – even a modest gift can make a significant difference to the work you support!
Learn more at www.RickHansen.com/Legacy
---

Yes! I will help build an accessible future for everyone, everywhere.