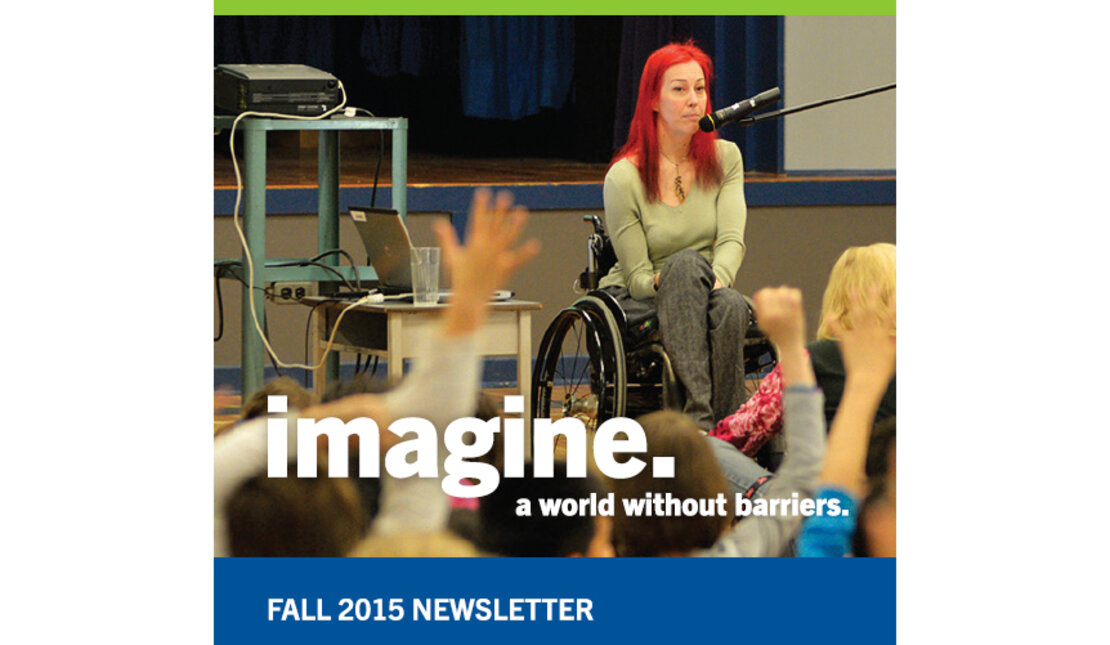 By Renee
On November 6, 2015
RHF News
What is new with the Rick Hansen Foundation this fall?
Overview
Click to jump to a section:
 
---
When we work together anything is possible!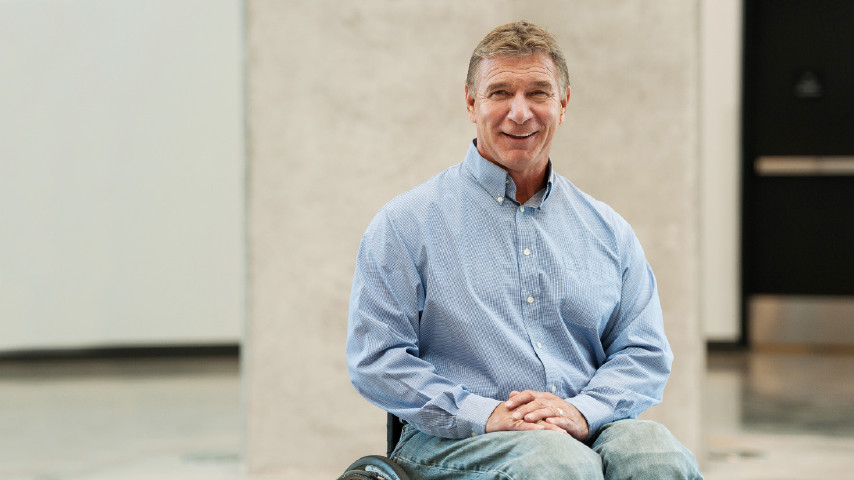 Above image: Rick Hansen.

On March 21, 2015, we celebrated the 30th anniversary of the start date for the Man In Motion World Tour.

I had three goals with the original Tour: raise awareness about the amazing potential of people with disabilities, show that each of us can overcome limiting attitudes and physical barriers, and encourage actions that improve the quality of life for people with disabilities.

We've come a long way but still have more work to do. Over the past year, the RHF team undertook a strategic planning process to help us build on our strengths and guide our work on the next phase of our journey.

Starting in Canada, we will focus on transforming the level of global awareness about the incredible potential of people with disabilities and the physical barriers they face – resulting in greater inclusion and the removal of barriers.

As we pivot to our broader mandate, we will honour our existing programs and commitments in spinal cord injury research and treatment, the Rick Hansen School Program, and the Quality of Life Program. As you'll read in this newsletter, your donations are creating impact with all these programs while also supporting pilot initiatives that will help make our world more inclusive and accessible.

I passionately believe that together we will achieve transformational change for people with disabilities, first in Canada and then around the world.

Thank you for your support and commitment in making this change a reality. Together, anything is possible.

Rick Hansen, C.C., O.B.C.
CEO, Rick Hansen Foundation
---
Free Wheeling with the Dogs: Luisa's Story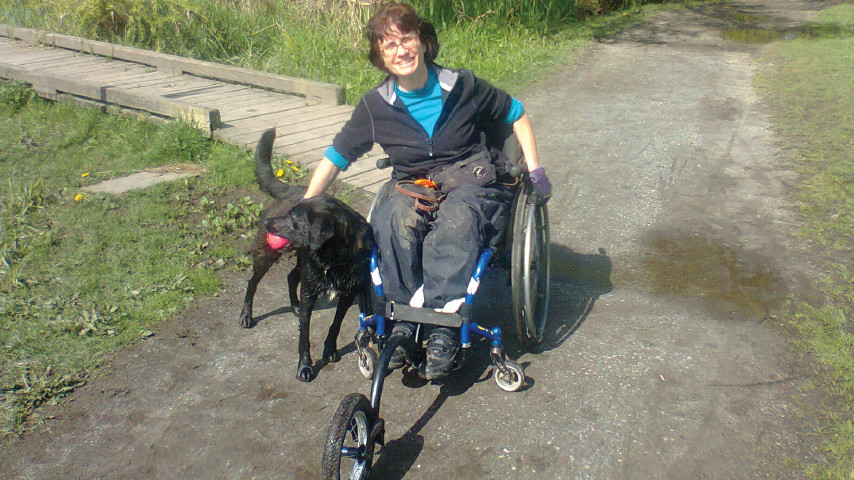 Above image: Luisa with her new FreeWheel attachment and a happy dog friend.

Luisa Bucci is a dedicated volunteer "dog wheeler". She uses a manual wheelchair for her mobility, which includes taking her friends' and neighbours' dogs out for a bit of fresh air and exercise. It's healthy and fun for the dogs – and good for Luisa. But the dogs like to ramble, and go places that can be hard to reach in a standard wheelchair. Staying on the sidewalk isn't nearly as fun, but Luisa didn't have a lot of choice.

Then she learned about the FreeWheel™ Wheelchair Attachment. It's a fifth wheel that attaches to the front of the wheelchair, lifting the front casters clear off the ground and allowing users to wheel with ease over physical barriers: curbs, dirt trails, grass, gravel, snow and sand no longer present insurmountable obstacles.

Assistive technologies like the FreeWheel can be expensive and out of reach for people who need them. Luisa applied for an RHF Quality of Life grant to help with the purchase.

Now Luisa has her own FreeWheel, and she is out five days a week with her four-legged friends, travelling far and wide over all sorts of terrain.

Supporters like you are helping to break down physical barriers and opening up possibilities for people with mobility challenges. Thank you!
"The FreeWheel has given me the opportunity to do more volunteer work as a dog walker. I walk dogs for two families now… I'm able to go for longer active walks with the dogs… without worrying about the type of ground or rough terrain I will encounter."

– Luisa Bucci
---
Kids Having Fun and Learning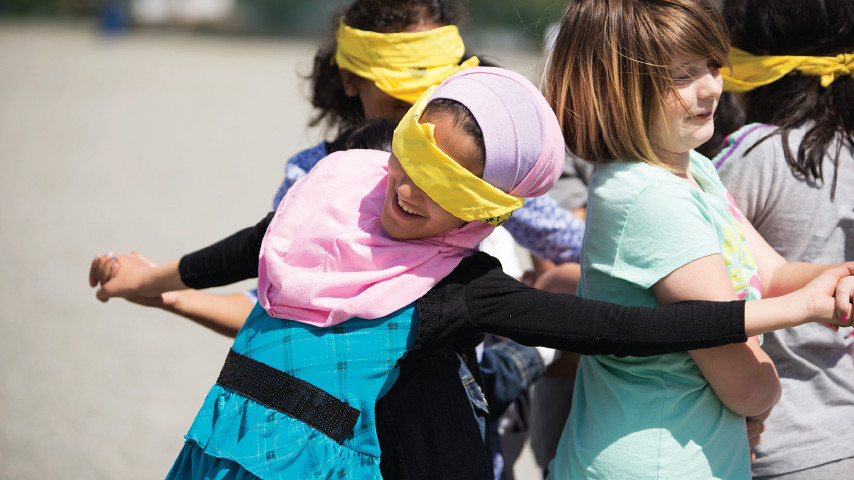 Above image: Students having fun while taking part in the Abilities Afternoon.

The "Abilities in Motion" (AIM) program helps students learn about people with disabilities. It's a fun and effective way to raise awareness and build their empathy and understanding.

For students at Richard McBride Elementary School in New Westminster, BC, their AIM week began with a presentation by Teri Thorson, an RHF Ambassador who shared her story with the students. Voluntary lunch time activities included learning sign language, doing a scavenger hunt in braille, painting a mural with your feet, and – most popular of all – a visit with some working guide dogs.

Students participated in a riotous Abilities Afternoon. There were different stations for the students to visit including an obstacle course, a sign language race, a silent dance, and something called a "human knot".

The stations simulated the experience of having a disability while completing ordinary tasks. It helped students to think about the accessibility of their school and daily life so they could understand the challenges faced by people with disabilities.

Your donations are helping to raise awareness with the next generation of Canadians, leading to a more accessible and inclusive world. Thank you!
"It made me realize that we should all be treated the same even if we are different no matter the difference. We need to include all people and create places that are accessible for all different kinds of people and abilities including schools and work places."

– Sophie, Grade 5
---
Ambassadors Training in Alberta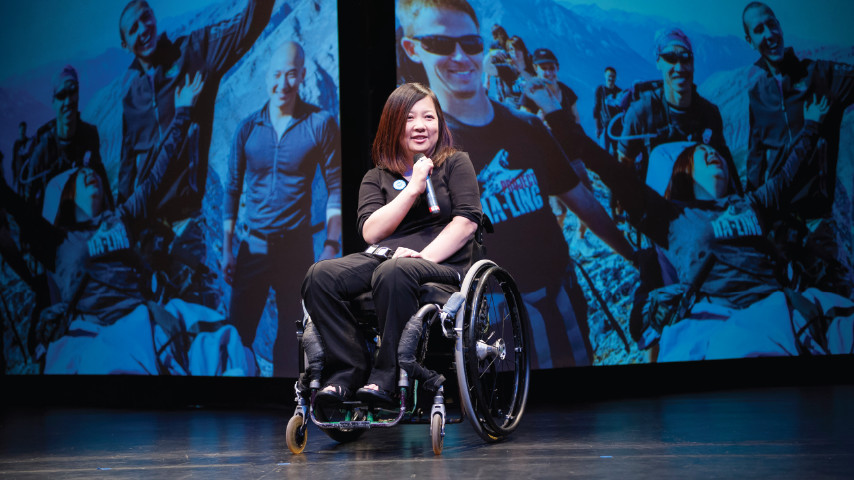 Above image: Ambassador Kuen Tang doing a presentation.

RHF Ambassadors play an important role in raising awareness, encouraging each of us to build a more accessible and inclusive world. They also play a crucial role in the Rick Hansen School Program.

For young people, an Ambassador might be the first person with a disability they meet to learn first-hand about the life of a person with disabilities.

In August 2015, the RHF team held a training session for new Ambassadors in Red Deer, Alberta.

The 14 participants were a diverse group: nine have spinal cord injuries; three have vision disabilities, and two are members of Wounded Warriors Canada, a non-profit that supports ill and injured Canadian Armed Forces members, veterans, and their families.

The group heard a presentation from RHF Ambassador Kuen Tang. Training sessions included: inclusion and physical accessibility from different perspectives; the components of a good presentation; the type of questions that students might ask; and how to handle situations that can arise in the school setting. After lunch, participants broke into small groups to practice their presentations and offer feedback to one another.

With the support of donors like you, the RHF team is conducting training sessions in Vancouver, Regina, Toronto, and Quebec City. Thank you for helping make these training sessions possible!


About Kuen Tang

A car accident in 2001 left Kuen Tang a quadriplegic but that didn't diminish her zest for life. She graduated with a Bachelor of Education in 2006 and became an RHF Ambassador. Kuen's career includes working for the Canadian Paraplegic Association, teaching computer skills to disabled people and at-risk youth, lettering comic books for DC Comics, making films, speaking on behalf of the United Way Campaign, and in her spare time enjoying skiing, mountain climbing, and travel. Thank you Kuen for all you do!
---
Pilot Project Success: The Rick Hansen Accessibility Team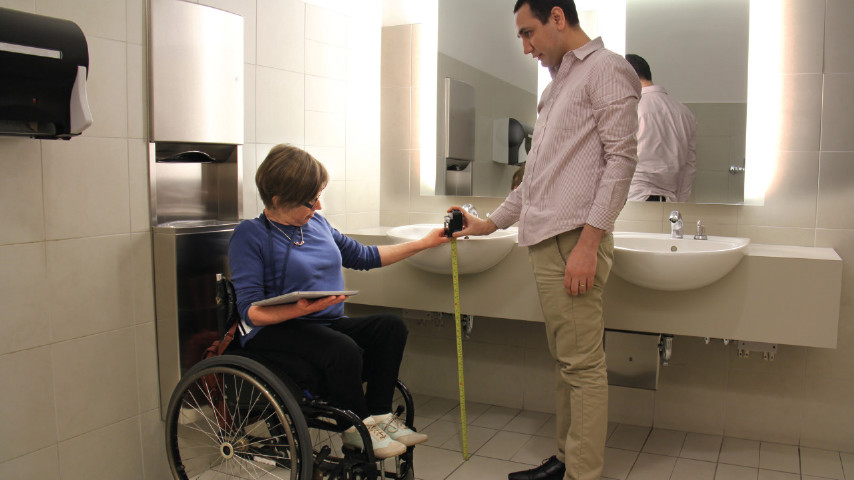 Above image: Rick Hansen Accessibility Team members Marika, left, and Mallaz, right, measure the height of a bathroom sink for an accessibility assessment.

Thanks to a partnership with the Job Creation Program of British Columbia (funded by the Government of Canada and the Province of British Columbia), and bridge funding through a donation by the Ambleside Tiddlycove Lions Club, our pilot team of Accessibility Specialists has been developing and piloting an accessibility audit program since November 2014.

Our talented team (who themselves have a variety of disabilities) visit businesses and municipal sites (from restaurants to public buildings and parks) and provide free accessibility audits. The audit identifies whether the physical buildings or public spaces are fully accessible for people with mobility, vision or hearing challenges.

The audit also provides recommendations on how they can improve accessibility for the growing demographic of people with disabilities. To date, the team has conducted over 67 free accessibility assessments in the Vancouver Lower Mainland.
---
Research study shows elderly patients are waiting longer for treatment

As Canada's population ages, older people are at an increased risk of sustaining a traumatic spinal cord injury (SCI) largely due to the higher incidence of falls.

According to a new Canadian study done in partnership with the Rick Hansen Institute (including data from the Rick Hansen Spinal Cord Injury Registry), age appears to be a factor influencing treatment decisions. Older patients waited longer for surgery and had substantially higher in-hospital mortality rates despite having less severe injuries than younger patients.

Studies like this one are alerting the medical community to take action now in advance of the growing number of seniors in Canada. Further research needs to be done into the link between treatment delays and outcomes among older patients which could inform better treatment options in order to resolve this issue.

Thanks to supporters like you, the Rick Hansen Foundation provides essential funding to accelerate critical research through the Rick Hansen Institute, partners at the Blusson Spinal Cord Centre and research centers across Canada and internationally.
---
New Pilot Project: Rick Hansen Accessibility Certification Program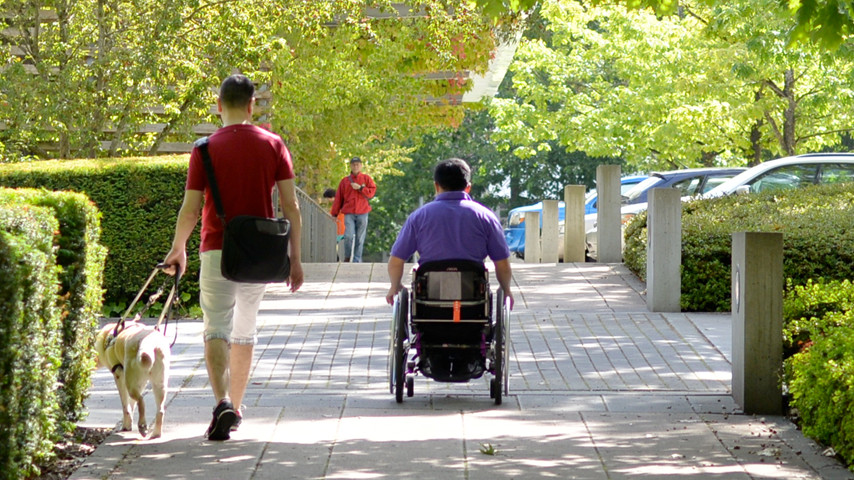 Above image: Two people with disabilities on an accessible path.

By 2030, 9 million Canadians will face some form of disability. And we're not ready.

Raising awareness about this challenge is important. Working on solutions is equally important.

Our aging population means more people will face physical barriers that limit their participation in everyday life. Is your local restaurant, grocery store or bank physically accessible? How about local transit or community parks?

One solution is raising awareness. Many businesses aren't aware that improving physical accessibility will increase their customer base with this growing demographic.

The challenge is that provincial regulations, municipal building codes and accessibility requirements for buildings and public spaces aren't standardized across Canada. And many of these codes and requirements are set at a baseline minimum rather than from the perspective of universal barrier-free design.

Rick and the Foundation team spent several months researching solutions. One success story is LEEDS certification – universal standards for green, sustainable buildings adopted by developers, architects and designers. If a building passes certification, it can be promoted as a LEEDS building, signaling to the public that the building incorporated sustainable building materials, generates low energy use and a small carbon footprint, among other benefits.

Taking inspiration from LEEDS, our team is piloting the Rick Hansen Accessibility Certification Program.

Certification will help businesses and organizations better understand what it takes to be physically accessible and how accessibility benefits them. Through the Rick Hansen Certification Program, government, businesses and other organizations will be empowered to identify physical barriers and implement practical solutions to remove them. Most importantly the program will help ensure that all Canadians have access to live, work, shop and play in inclusive communities.
---
The Season of Giving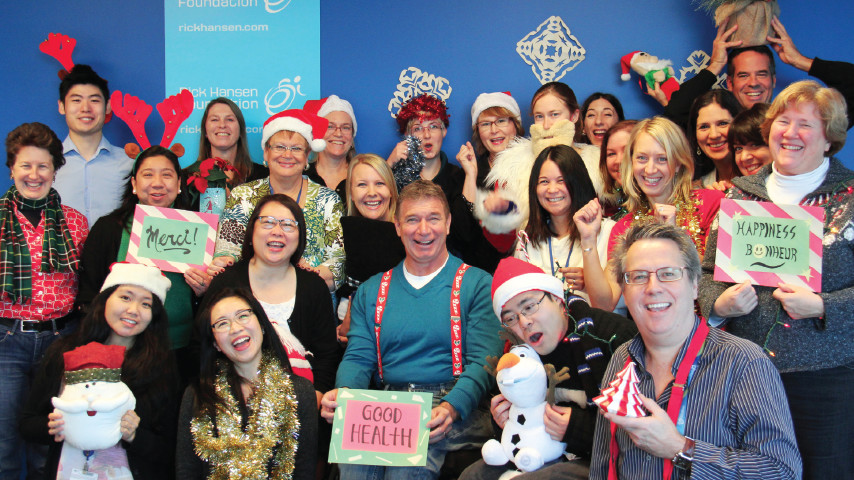 Above image: The Rick Hansen Foundation team celebrating the holiday season last year.

Many of our supporters find creative ways to pay it forward during the giving season!

Mott Electric, 4th Utility and MTI run a highly successful employee giving campaign. On the first Friday of December, employees commit to donating one hour of pay (some donate an entire day or two!) to support the individuals, non-profits and charities that staff recommend to their charitable committee. The companies then match the dollar value of each employee's donation of work hours – which doubles the impact! Last year RHF was honoured to be one of the 25 charities selected.

Last December, Ace Tech changed the way they gave Christmas presents to their corporate clients. Rather than sending a gift basket, Ace Tech made donations to RHF in each business client's name (with a cover letter that clearly outlined their intentions – important for Canada Revenue Agency regulations) and their clients received the charitable tax receipt!

There's also the power of employer matching gift programs! Check your Employee handbook to see if your company offers a matching gift program or consider a staff fundraising event.

Are you organizing a Christmas party? Have fun and raise money for your favourite charities. Ask family and friends to bring a cash donation in lieu of gifts. Or set-up an RHF online fundraising page so that friends can receive charitable tax receipts.

And finally, some donors like to take advantage of the capital gains benefit when making a donation of publicly traded securities.

If you have a donation question or fundraising idea, we're here to help!

Contact Renee or Karri by emailing donations@rickhansen.com.