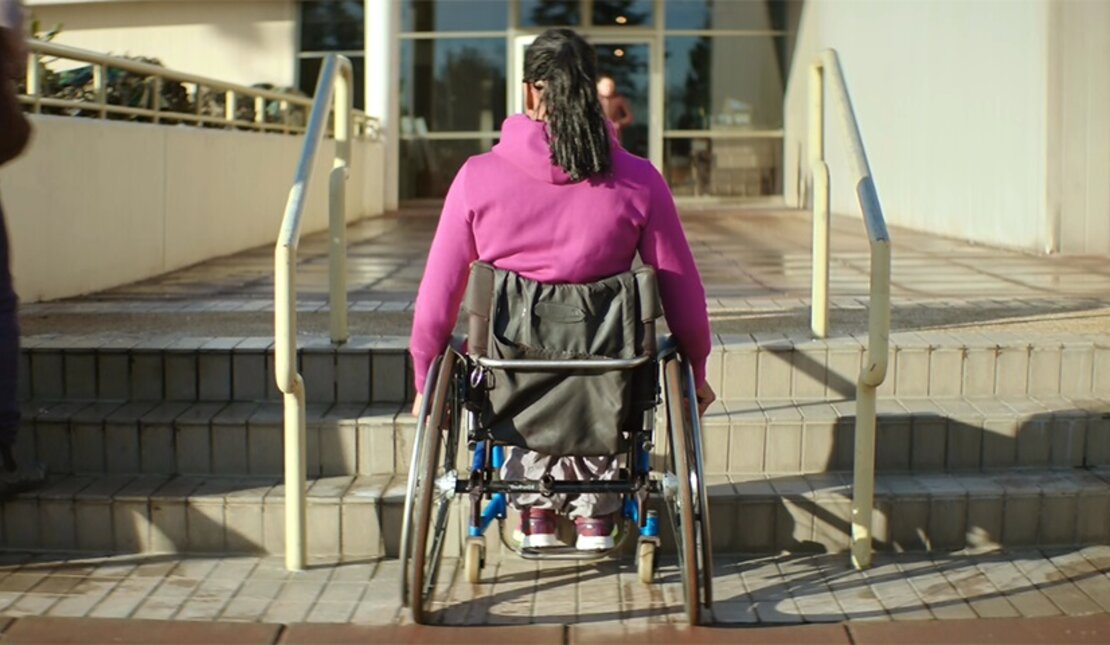 By Melanie Scott
On February 21, 2017
Community Spotlight
Djami Diallo has had to overcome many obstacles. Born two months premature in civil-war-torn Liberia, she was diagnosed at age one with Spastic Diplegia Cerebral Palsy, affecting the movement in both lower limbs.

Doctors told her she'd never have a normal life. Her parents thought differently. Multiple surgeries gave her the ability to walk with the support of canes and the option to use a wheelchair depending on the activity. She received an education and works today as Grade 8 French Immersion teacher. After immigrating to Canada in 1998, she discovered wheelchair sports as a teenager – and excelled. She's a national 100m champion in wheelchair racing.

Despite her many successes, obstacles remain.

"My biggest challenge overall," says Djami, "has to do with people's perceptions of what I can and can't do, what I can offer them socially. There are so many stereotypes of what it's like to have a disability."
 
Growing up with Cerebral Palsy
For Djami, those powerful stereotypes began affecting her life when she was an infant.

"When I was born, doctors said I wouldn't achieve much being in this body," she says. "It was always up to me, with some support, to prove what I had to do."

She credits her parents for giving her the best quality of life as a child so she could have access to more opportunities. She was enrolled her in a special school for children with disabilities and underwent extensive medical treatment to improve her mobility.

Early on, Djami wanted to become a teacher for kids with disabilities. The stereotypes appeared immediately.

"I was told, 'you have a disability - how can you help kids with disabilities?' The perception was, kids need an educator who could handle their physical challenges," says Djami. "I think it's the opposite. I'm able to make a connection to all of my students today, whether or not they have a disability."

She developed a passion for social justice. In high school, she worked with an organization doing an outreach project with youth and schools looking at diversity, able-ism, and issues of accessibility. She became a youth facilitator, which led to her teaching career.

"It's easy for me to see the different ways in which people can feel undermined and discriminated against," she says.
Getting around in an inaccessible world
Djami and her family always lived in ground-floor apartments. While rooms were on the same level, the spaces couldn't be modified with ramps or wider doorways. Despite this, they made it work. She had her first major surgeries at age six, and then a huge hospital wheelchair.

"My parents told me from an early age I had to make a way to get around in the world because the world is not fitted for me," says Djami.

She views this advice as a gift. She was motivated to learn to walk with canes and gained the choice of using a wheelchair.

"My parents knew the inaccessible world I was growing up in. Their mentality was, 'let's not just give her everything so she can be comfortable,'" she says.

While she believes Canada is becoming more accessible for people with disabilities, progress still needs to be made. Her daily struggle is being confronted with stairs and having to find elevators.

"You have to become an advocate for yourself - something as simple as asking someone where the elevator is. I rely a lot on the kindness of strangers," she says. "My disability involves a lot of spatial challenges. I get lost a lot. I had to recognize others can help me."
Changing attitudes about disability
Most people are willing to help Djami when she asks, but the stereotypes are still there.

"People are more amenable to help when I'm in my wheelchair than when I'm using my canes," she says. "People don't realize disability has several forms. Some people will see me wheeling around one day, then walking with canes the next and ask, 'Are you cured?!' And then I have to explain the situation."

Djami believes accessibility and inclusion can only happen through education, and by socializing our kids to be open-minded and accepting of differences.

"There's a social dimension to the physical environment. My disability is an unspoken thing. It's not a problem in my family or circle of friends, but sometimes beyond that," she says. "It's an aspect I've noticed as much now, in my 30s, as when I was 10 years old."

She credits the Rick Hansen Foundation with developing programs and initiatives encouraging accessibility and inclusion for people of all ages and abilities.

"The work of the Rick Hansen Foundation can benefit all of us," she says.

See Djami in action as the star of our new Access4All Canada 150 video.