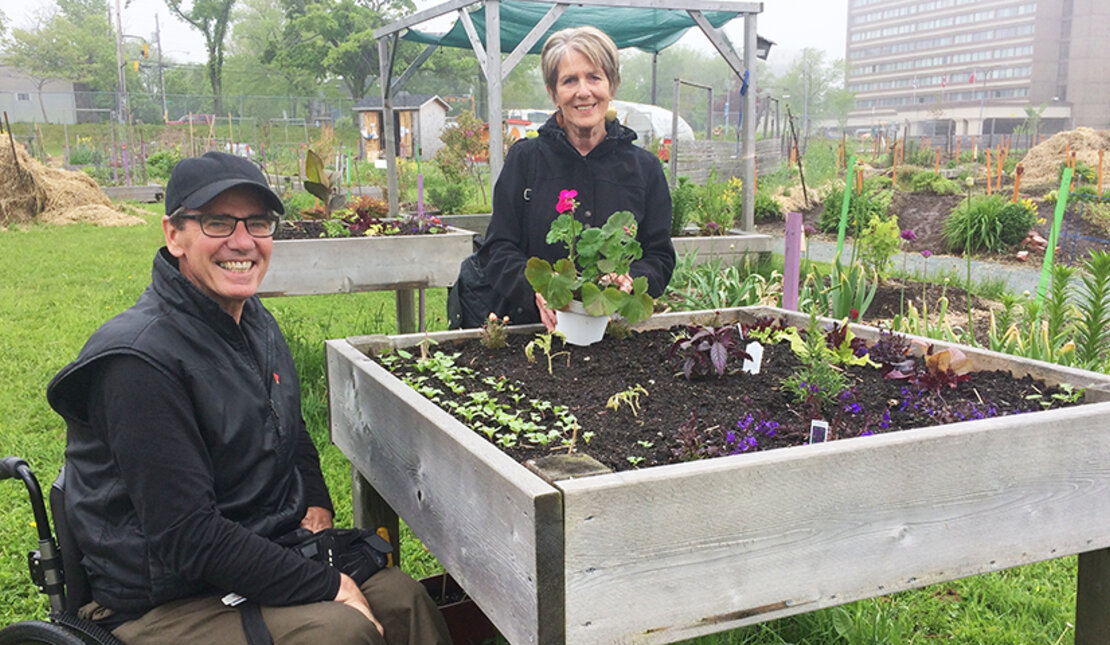 By Melanie Scott
On February 6, 2018
Community Spotlight
Common Roots Urban Farm (CRUF) is a community oasis in bustling downtown Halifax. Covering two acres of land, it's located on the grounds of one of Nova Scotia's largest hospitals, QEII, and at one of the city's busiest intersections. Step within the farm, which is open to the public, and you'll find a peaceful, but thriving, setting with over 400 active users.

At CRUF, people of different abilities and experiences can garden in, and harvest from, the farm's common areas or affordable community plots. In its Market Garden, new immigrants and refugees volunteer and produce over 2,500 lbs. of food and flowers a year for sale and for donation to the local food bank.  

"Our mission is to promote healthy lifestyles and landscapes through hands-on education about growing and eating healthy food," says Spencer Gough, CRUF's development coordinator. Our vision is of healthy people, connected to their food, each other, and the natural environment."

In 2017, QEII Health Sciences Centre Auxiliary and Partners for Care received a $28,855 Barrier Buster grant through our Access4All Canada 150 Signature Project. The funding was used to improve the accessibility of CRUF's Healing Garden, and hold a community awareness event to celebrate the improved accessibility and highlight the importance of creating a fully accessible, inclusive Canada. 

"The project will increase the awareness of wheelchair users and the blind as active participants in our community. Being a Barrier Buster will increase awareness throughout Halifax for accessible community gardening as a healthy lifestyle choice, and serve as a showcase that will encourage other public open spaces to consider removing the barriers to healthy lifestyles." – Gerry Post, Executive Director, Accessibility Directorate (Nova Scotia)

The renamed 'Rick Hansen Healing Garden' is a calm, colourful space where hospital patients, their families, and staff can garden together. Because of its location, it's visited by patients and people with a range of mobility disabilities. Over the summer months, it attracts hundreds of visitors, many of whom want to participate in a hands-on way. 
 
Building with everyone in mind

To improve accessibility in the Healing Garden, CRUF consulted with the broader disability community, people routinely left out of conventional garden design. Working with urban planners and architects, they focused on three features:
Accessible pathways, adding 198 feet of crusher dust pathways for improved mobility. 

Barrier-free gardening beds, creating raised beds for people in wheelchairs and for people who are blind or have low vision.

Accessible watering station, allowing gardeners to independently and ecologically water their crops.
"The volunteers, including gardeners with disabilities, who were involved in the design phases of the project developed a sense of ownership of the farm space and an increased sense of belonging to the farm's community and the healing power of the farm," says Spencer.

The Healing Garden also allows for on-site events, workshops, and programming for therapeutic groups with various disabilities. Anyone can visit the garden to learn about accessible, adaptive gardening directly from the community.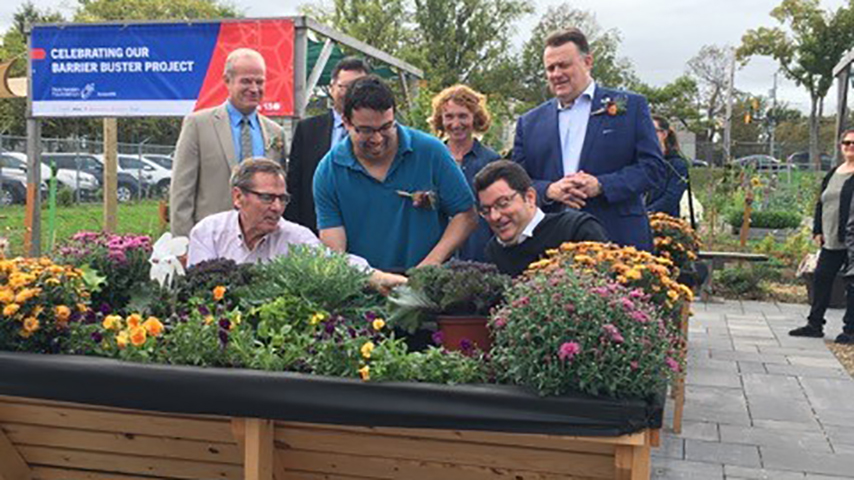 Celebrating accessibility

The official opening of the Rick Hansen Healing Garden, in September 2017, was a celebration of diversity, accessibility, and inclusion.

Senator Dan Christmas, Canada's first Mi'kmaw Senator, opened the event, with disability and accessibility activists including Gerry Post voicing the experience of gardeners with disabilities. MLA and Speaker of the Nova Scotia House of Assembly, Kevin Murphy, who uses a wheelchair, officially opened the garden with a ceremonial planting. All guests, including Halifax Mayor Mike Savage, enjoyed music performed by a blind musician, and food by a non-profit supporting people with mental health issues. 

"The event brought together people from the business community, the farming community, government, the disabled community, executives from the health authority, hospital staff, newcomers." says Spencer. "It's helpful for . . . all those advocating for more holistic and preventative health care to be recognized and validated and seen and heard in such a beautiful light by the people who . . . make the decisions."

What was the end result of being a Barrier Buster? "We learned things are better and more fun when more people are involved. We learned we have stronger networks than we thought. We learned it's okay to ask for help," says Spencer. "We learned that people want to be healthy. We learned that making space accessible to people . . . is not that hard." 

***

View the full photo gallery of this inclusive community space.
Photography credit: Sándor Photography, Halifax.