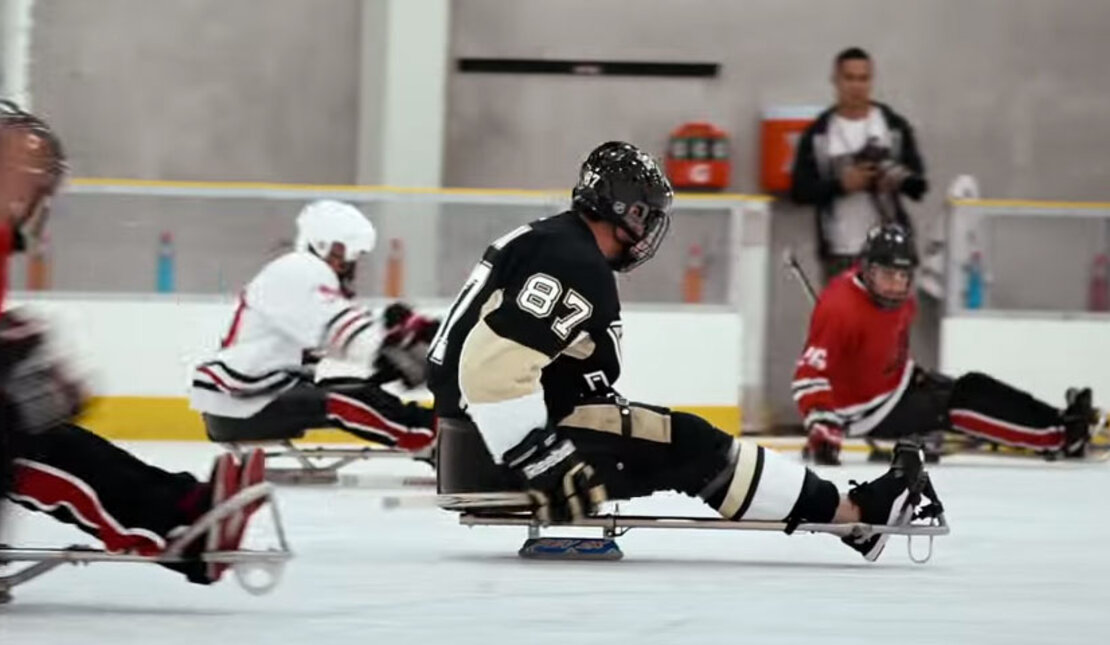 By Bucky
On January 13, 2015
RHF News
Above image: Sidney Crosby participates in a game of sledge hockey.
Not long after this new year started, a commercial for Gatorade appeared on YouTube and spread like wildfire among the hockey and sports community. In its first week, it was covered by news media in both Canada and the United States, and was one of the most talked about videos among the hockey community.
That video featured well-known National Hockey League (NHL) stars Sidney Crosby of the Pittsburgh Penguins, Claude Giroux of the Philadelphia Flyers, Logan Couture of the San Jose Sharks, Nathan McKinnon of the Colorado Avalanche, Scott Hartnell of the Columbus Blue Jackets, and Ryan Miller of the Vancouver Canucks.
The premise was simple: that group of NHL stars would appear as a surprise at the local hockey arena, and engage in an impromptu sledge hockey scrimmage. It was not complex or elegant at all.
Yet, it was an instant hit.
Disability-related advertising: a rising trend
In recent years, there has been a rapid increase in advertisements featuring those with disabilities. One of the early pioneers was Teal Sherer, an actress who has a spinal cord injury, who starred in a Liberty Mutual commercial that was released close to election time in the United States a few years ago.
Lately, Guinness promoted its beer using wheelchair basketball as a backdrop. It became an internationally known commercial and increased awareness not only in Paralympic sports and wheelchair
basketball
, but also highlighted the importance of including friends regardless of ability (while also selling beer).
In addition to wheelchair users, amputees also started to dot the advertisement landscape, particularly with Swiffer's advertisement about how those with limb impairments can benefit from their products.
Not to be outdone, the Deaf community has also made inroads – Apple Inc. released a commercial featuring Deaf travel writer Chérie King showing how their iPads can help those with hearing impairments travel the world.
Meanwhile, National Football League player Derrick Coleman (who is Deaf) also made a huge impact in his Duracell commercial and inspired other young athletes with hearing loss – almost immediately before winning the SuperBowl.

And finally, Petco released a commercial that does not point out disability on its own, but rather as part of the community as a whole.
There are more, and this is merely a small sample size. But why are advertisers targeting people with disabilities?
Why they are focusing on disability
One of the most surprising facts to many is that people with disabilities make up the largest minority group in the world.
With an aging population and improvement in healthcare, in Canada alone, 1 in 5 people are expected to have some form of disability by 2030. If you include their friends and family, 1 in 3 in Canada would be affected by disability in some way.
It is also one of the only minority groups that anyone can join at any time, with or without warning.
However, disability is not the only factor. If you include injuries and mobility, hearing, and sight issues that are not usually seen as "disabilities" but are limitations nonetheless, that ratio grows even more.
Not surprisingly, this amounts to a huge market.
It is a profitable strategy
Research suggests that the market of people with disabilities is roughly equivalent to the economic power of China, with an
estimated $8 trillion in spending power
(including $590.6 billion in North America alone). Yet, historically they were almost never represented in products' advertisements – until now.
One of the most striking things about the commercials is that they showcase disability as something that is an integral part of society, and questions its audience to think about it differently.
In the videos above:
Gatorade – integrates NHL players with sledge hockey players, showing the sport as simply "hockey"
Liberty Mutual – emphasizes the importance of perseverance to achieve social responsibility
Swiffer and Apple Inc. – shows that their products can help people of all abilities and that everyone can participate
Duracell – exposes that underestimating those with disabilities is a mistake
Petco – shows that pets and humans share a common social interdependence, which coincidentally sometimes involves disability
By both highlighting disability and making it part of the non-disability world, the message becomes clear: "we serve everyone." That alone casts a very positive light on the company and acts like a big welcome mat to a market that has been overlooked and underserved in the past.
What's next?
This trend is likely to continue as it gives off a positive image of the companies involved. These advertisements can also help re-enforce inclusive hiring policies and workplace cultures, and serve as inspiration for other companies to do the same. Consumers' views on disability can also change as a result of the positive images shown to them.
Companies will also be encouraged to consider ability levels of consumers in their products – an example of this already happening includes Folgers changing its coffee containers to include handles, which helps those without complete hand or grip function.
It will not happen overnight and is still a slow process, but this is a sign that things are moving in the right direction – and are doing much more than simply selling products and services.