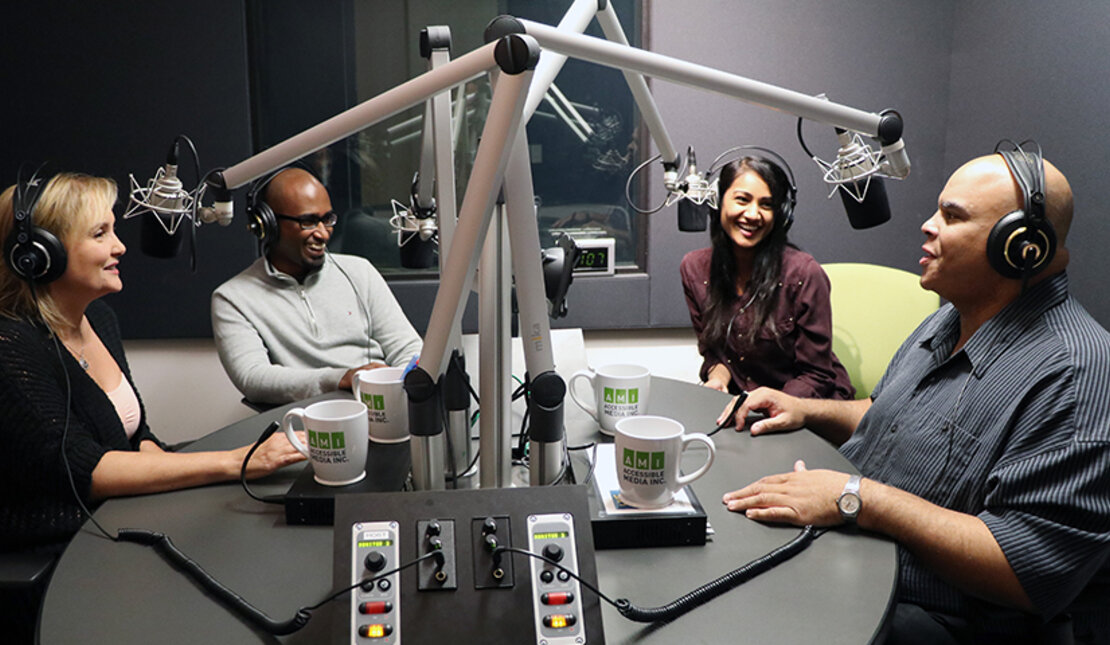 By Guest Blogger
On May 1, 2017
RHF News
Image: (L-R): Sharon Caddy, Kevin Philipupillai, Andrika De Lanerolle, and Kelly MacDonald sit around a round table in front of microphones on a stand in a studio all wearing headphones. Everyone is smiling and looking at Kelly as he tells a story. 
In the early days, before the prevalence of screen readers on iPhones and computers, if you were blind or partially sighted, getting information in a timely fashion from print materials could be difficult. 
It's now easier to access information than ever before, but some materials remain elusive. While accessible formats are becoming more and more prevalent, sorting through the millions upon millions of articles, essays and columns can be exhausting - not to mention, the voice of an assistive reading device isn't exactly the easiest thing to listen to for any extended period of time. 
Accessible Media Inc. (initially launched as a reading service) has grown to offer a variety of audio and television programming for Canadians with disabilities by a talented team of on-air hosts with their own diverse abilities. Read on to find out more about AMI's audio programs, what the hosts think about disability representation in the media, and what you can do if you're interested in working in broadcasting.
AMI-audio's disability programming
AMI-audio's reading service has grown and shifted over the years but the core of what we offer remains the same: accessible, curated print content read by professional narrators. AMI-audio airs a variety of programs dedicated to topics of interest with headlines from Canada's top print publications. You can listen to curated reading shows like The Health Report, The Lifestyle Section, Pet World and Primetime, to name a few. We also offer shows dedicated to specific publications, like The Guardian This Week and The National Post Show- both also available to stream on demand. 
Over time, our audience told us they wanted to hear more live content and wanted to have a dialogue with us about the news and information they listened to on our channel.
In early 2016, AMI-audio launched its first ever live show, the aptly named, Live From Studio 5. Focused on news of the day, technology and information, hosts welcomed listeners to their day with all the info they needed to get started in the morning.
Soon after AMI-audio added a live afternoon show, Kelly and Company. Hosted by AMI's larger-than-life personality Kelly MacDonald, Kelly and Company puts the spotlight on a chorus of contributors from the disability community who discuss everything from entertainment to health and lifestyle information, all through a disability lens.
Finally, AMI-audio created a space for debate, discussion and conversation around disability related topics not covered in-depth by traditional media. Open Dialogue is a program where guests, panelists and listeners gather information and discuss in-depth topics like mainstreaming, violence against people with disabilities and disability policy in North America. You can listen on demand to any of these programs and you can also stream AMI-audio live for free. 
A Q&A with AMI-audio
 hosts 
AMI-audio is a place where we not only provide information to our audience, they provide information to our community at large. And as our service grows, so does the talent that join us on air. AMI-audio is home to some of the best and brightest broadcast talent and their journey to working in media and the work they do on air is just as important as the content we provide to our listeners. 
We chatted with a few of our on-air hosts below about what it's like working at AMI, disability representation in the media and tips on working in the industry.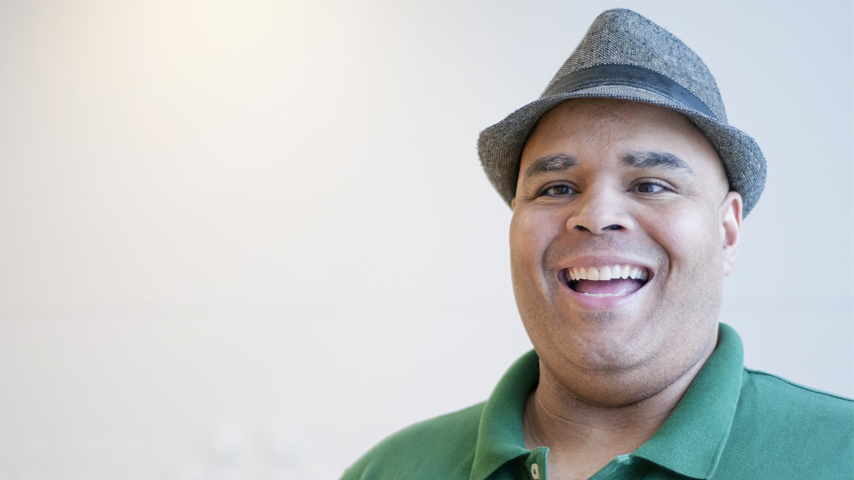 Image: A headshot of Kelly. He's smiling and wearing a bright green shirt and grey fedora. 
Kelly MacDonald, current host of Kelly and Company on AMI-audio has worked for AMI since its inception in the early 90s. As a broadcast graduate from Fanshawe College in London, Ontario, he had always dreamed of being on-air.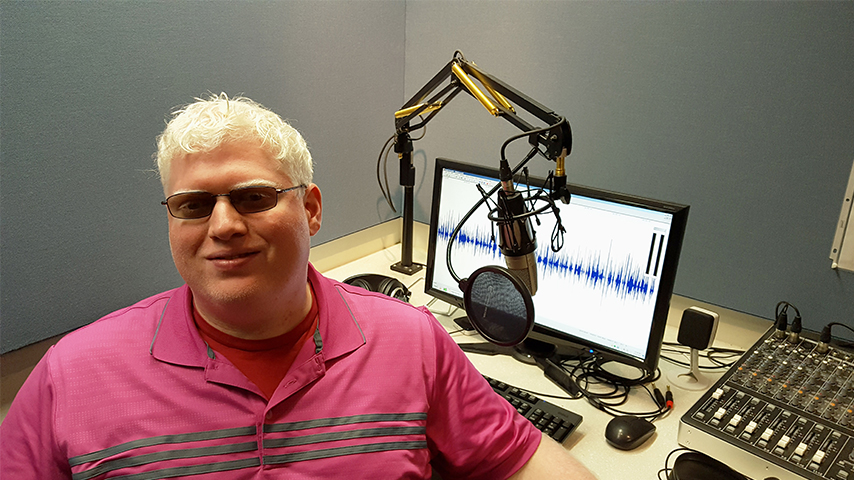 Image: A headshot of Dave. He sits in front of a computer with audio equipment around him. He's smiling and wearing a pink shirt with grey stripes. 
Dave Brown, is a presenter with AMI This Week and guest host on AMI-audio's Live From Studio 5.  Dave started out working at a college radio station and became inspired to pursue broadcasting through different radio and television arts programs and finally working his tail off at many, many internships.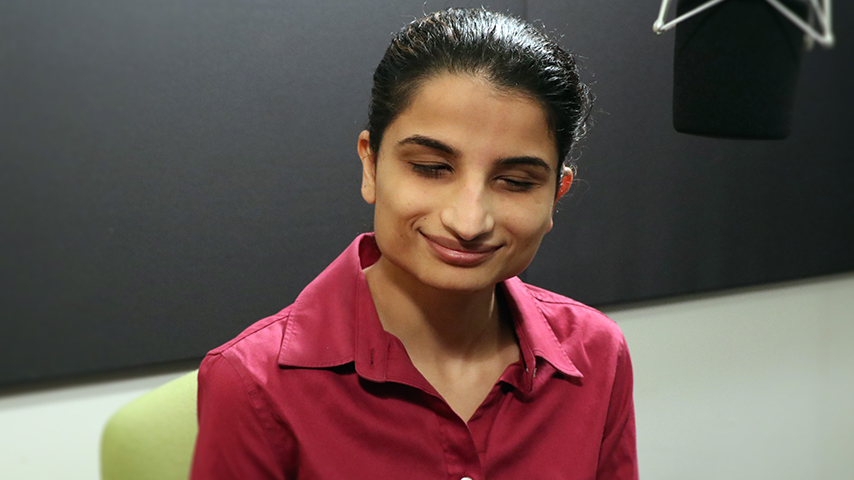 Image: A headshot of Joeita. A microphone supported by a stand of camera floats in front of her. She is smiling and wearing a pink blouse.
Joeita Gupta hosts Live From Studio 5 with Mike Ross weekly. She also volunteered for a campus-community radio station where she hosted and later produced a weekly feminist radio show.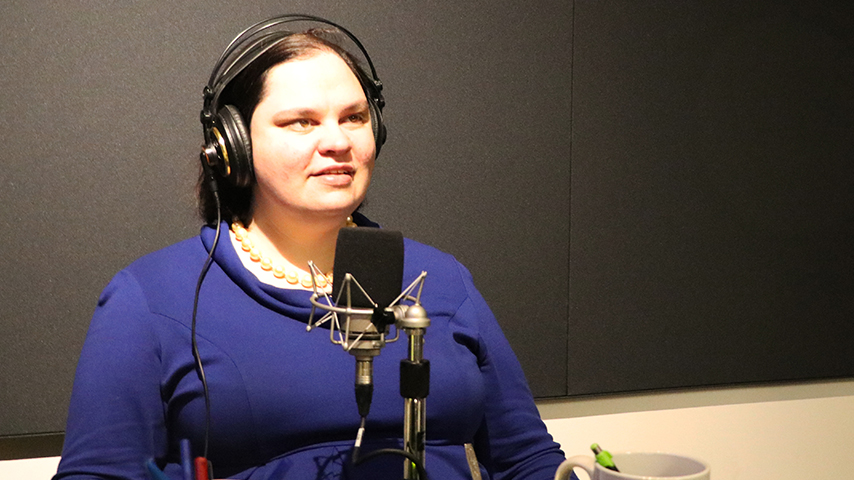 Image: A headshot of Michelle. She is wearing headphones and is sitting in front of a microphone in studio. She is listening to conversation and is wearing a blue shirt. 
Michelle McQuigge is a reporter with the Canadian Press and co-host of Open Dialogue. She's always been a fierce advocate of disability rights and upon graduating journalism school landed her first gig with the Canadian Press and has been loving it ever since.
Q: How do you feel about the current representation of people with disabilities in mainstream media?
DAVE: "The representation of people with disabilities in the media is pretty limited.  You don't see many on-air personalities with disabilities.  You are finding more and more people behind the scenes, but that hasn't quite bled through to on-air positions."
JOEITA: "The representation of persons with disabilities leaves a lot to be desired. On the rare occasion when they do appear in mainstream media, persons with disabilities are often represented as objects of pity; as lacking agency or voice, distilled to one-dimensional tropes." 
Q: People are often unsure of how someone with a disability could work in media. What adaptive technology do you use working on-air? 
KELLY: "There is more comfort with disability in media but generally I think people are still afraid to hire people with disabilities in any field. Sometimes the idea of assistive technology scares hiring managers. At AMI, making the job accessible comes first."
JOEITA: "I rely on my trusty iPhone equipped with Voiceover as well as a laptop with JAWS to research, surf the web and read scripts for the show. Also, my much loved and regrettably beaten up white mobility cane to get around." 
DAVE: "I need big fonts to read anything on the air.  Thankfully, between my smart phone and Microsoft Word, that's easy to navigate. Because I'm an albino and light sensitive, I typically prefer to work in dark places, so the studio experience is perfect for me." 
Q: How is working for AMI-audio different than working for other broadcasters or media companies?
JOEITA: "This is the first time in my professional (working) life that I've felt that my perspective as a person with a disability has not only been validated, but is valued. Having an opportunity to speak to and for the blind and low vision community has paved the way for me to greater self-acceptance as a woman with a disability." 
MICHELLE: "The show I co-host on AMI-audio takes a deep dive into a wide variety of disability-related issues, all examined through a lens of inclusion. I love having the scope for more thorough explorations of topics. AMI-audio wants to hear it all. I'm grateful to know that someone out there is committed to exploring all sides of a complex issue." 
Q: What advice would you give to a young person with a disability who wants to work in media?
DAVE: "You can do anything you want to.  Your disability will not hold you back.  But remember that media is a talent driven industry, so you better be willing to work your tail off and develop your skills.  I'd give someone with a disability the same advice I give to all aspiring broadcasters, work hard, be humble, and don't be afraid to take any professional challenge head on." 
KELLY: "Hang in there and accept we are always going to be asked the same questions from people needing to understand how we do it! Encourage questions so you can take advantage of the opportunity to advocate and educate.  It moves all our cases forward." 
MICHELLE: "Don't rely on other people to advocate for you, but don't be afraid to let them if and when appropriate. Resist the temptation to downplay your disability at every turn, since there will be times when your perspective means you're best equipped to do justice to certain stories. Most of all, make sure you love this field. It isn't always easy, but it's always fascinating, challenging, and rewarding whether you're disabled or not." 
JOEITA: "Working in the media is a tremendous opportunity for people with disabilities because it offers an avenue to change perceptions of people with disabilities, smash some outdated stereotypes and raise awareness. Like with any other profession, there is a learning curve and obstacles to overcome: keep a positive attitude whilst remaining realistic; understand your strengths and where you need to grow; don't be shy asking for help and when needed, advocate for yourself."
***
Visit AMI's website to find schedules on your service provider, or stream AMI-audio live.
Guest authour: Elaina Falcone is the Marketing Communications Specialist at Accessible Media Inc. (AMI). AMI is a not-for-profit multimedia organization serving more than five million Canadians who are blind, partially sighted, deaf, hard of hearing, mobility or print restricted. Operating three broadcast services, AMI-tv and AMI-audio in English and AMI-télé in French,

AMI's mission is to make accessible media for all Canadians. Follow them on YouTube, Facebook, and Twitter.