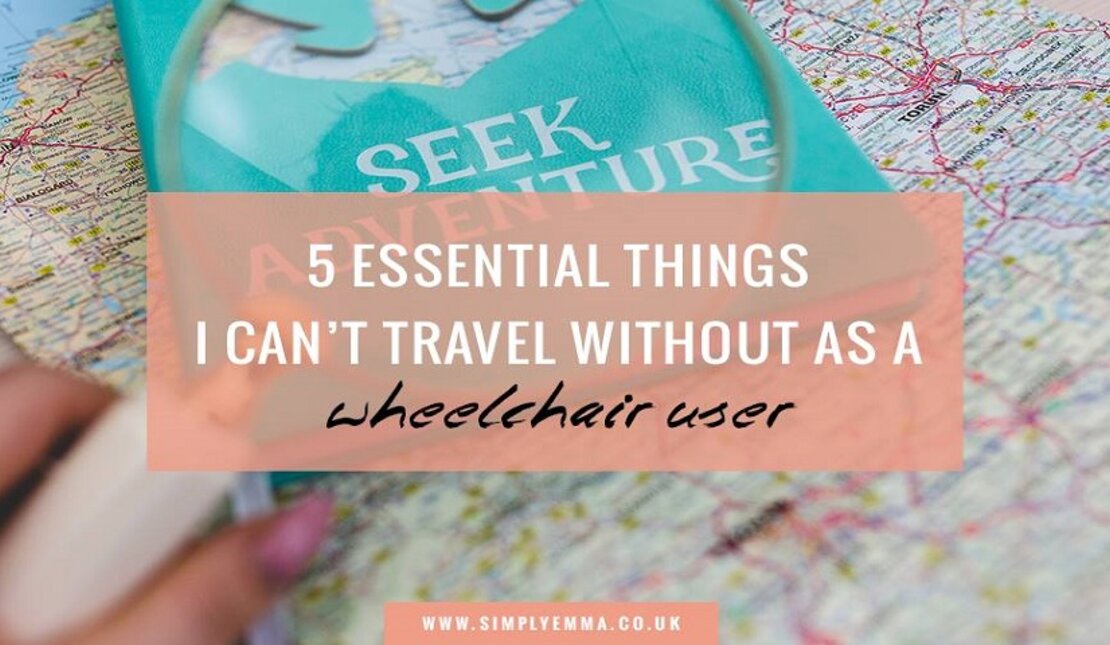 By Emma Muldoon
On October 24, 2016
RHF News
We all have those 'can't live without' items for when we travel, right? Maybe it's an e-reader, or a neck pillow and eye mask, or a tablet and earphones - things that make the travel experience more comfortable for us. Here are five essential items that make travelling as a wheelchair user a lot easier for me.
 
Arm support pillows
When I travel (even if it's only for one night), I always take my little arm support pillows that are filled with thousands of tiny polystyrene balls. I sleep on my back every night so these pillows help lift and support my arms, keeping them in a nice position as to not put any strain across my chest and generally help me stay comfortable in bed.
Self-inflatable mat
I bought the inflatable mat last year after being fed up sleeping in uncomfortable hotel beds with hard mattresses and spending most of the night wide awake in pain (because pressure builds up in my pressure points while lying on my back).

If the bed is really uncomfortable, I'll lay the mat on top on the mattress; it's much softer and allows for a more comfortable and pain-free night's sleep. This also lets my partner have a more restful sleep too – win-win!

What I also love about this self-inflating mat is how easily it rolls up and fits in my carry-on or suitcase without taking up much room.
Wheelchair charger
I know this sounds like an obvious choice, but it's absolutely one of the things I can't travel without as a wheelchair user.
Most people would probably have a breakdown if they forgot to take their phone charger on holiday with them, but would most likely be able to buy a cheap replacement wherever they went - that's not so easy for wheelchair users.

If we're lucky we might be able to hunt down a shop or supplier that sells a compatible wheelchair charger, but this can be expensive and time-consuming, so best to be well-packed.

(However, it is always a good idea to research local wheelchair supply shops just in case you do roll into any problems.)
Cable ties and bungee rope
I know what you're probably thinking, "What on earth would she need cables ties and bungee rope for?" Well, I've found they came in handy for securing things like footplates and my joystick controller to the seat of my wheelchair when it's in the hold of the plane. This ensures they aren't going to get damaged or lost.

I've also cable tied my wheelchair charger to the back of my wheelchair in the past, which meant it didn't take up space in my luggage and more importantly … I couldn't forget it!
Research
As I've mentioned in previous posts, planning is always key when travelling with a disability, and that is why I'll never travel without doing some research on the destination, and the accessibility of hotels, public transportation, tourist attractions and restaurants.

This way I'm prepared and know exactly what attractions are accessible and which mode of transport is more suitable for getting around. I'll make sure I'm loaded with the information I need and take copies of any confirmation emails I have.

What are your 'can't live without' items for making travelling with a disability as smooth as possible? Let us know at info@rickhansen.com.


Originally published on Simply Emma.