Every year, starting on the last Sunday in May, Canadians celebrate National AccessAbility Week (NAAW). Founded as 'National Access Awareness Week' in 1988 and inspired by Rick Hansen's Man In Motion World Tour, this week is an opportunity to celebrate Canadians with disabilities and raise awareness of the critical need for accessibility and inclusion for all in our communities and workplaces. But we still have a lot of work to do; daily, people with disabilities continue to face barriers. Let's change that. This year, show your support for NAAW between May 30 – June 5, 2021. 
Scroll down to discover the many ways you can help celebrate #NAAW2021!
Double Your Impact 
When you make a donation to the Rick Hansen Foundation during National AccessAbility Week, one of our generous donors will match your contribution, dollar for dollar (up to $50,000). Donate to help build a more inclusive future for Everyone, Everywhere.  

Share Your Support 
Add a temporary profile picture on Facebook using our National AccessAbility Week frame, or share a message of inclusion on social media.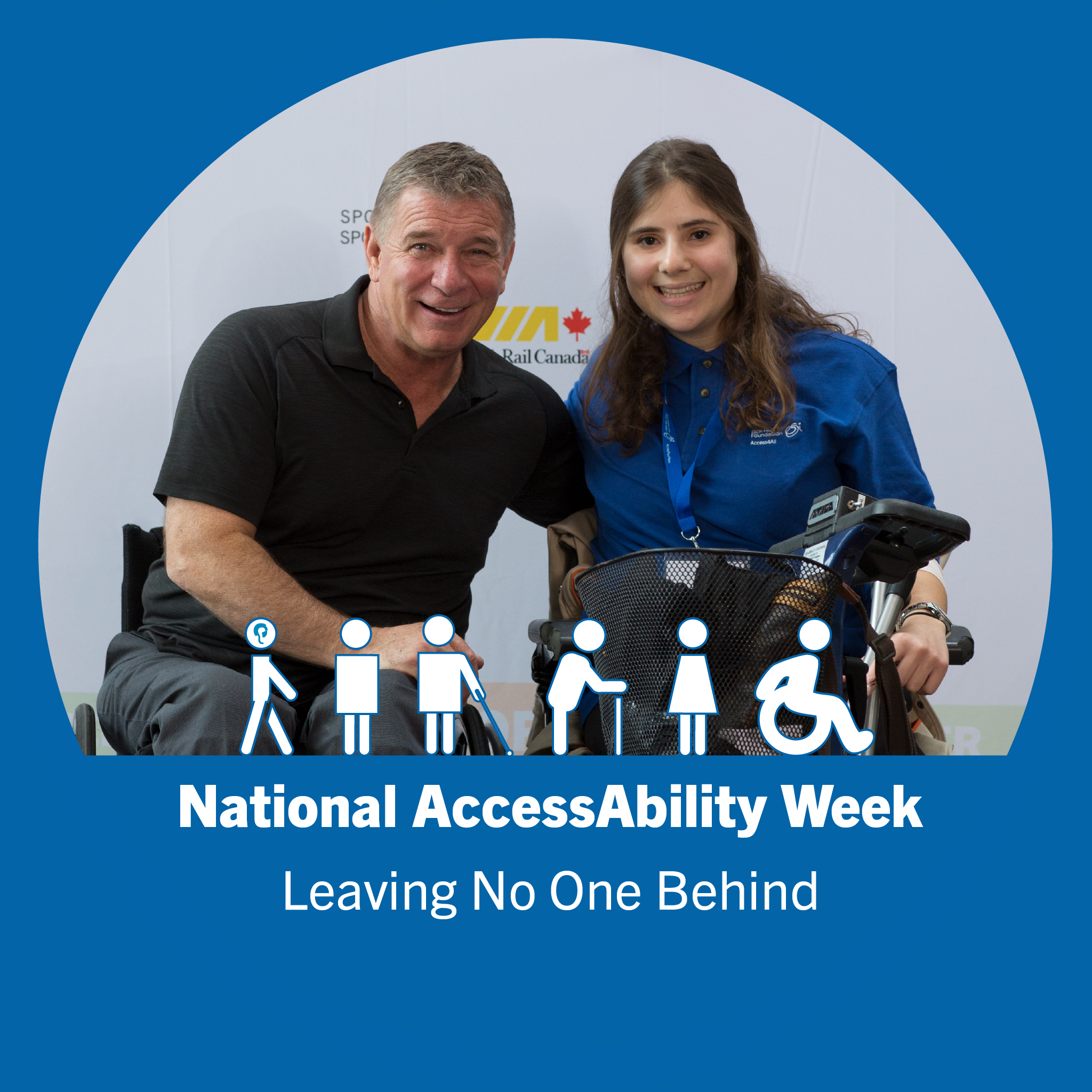 Invite an RHF Ambassador to Share their Story 
Book a virtual presentation from one of our Ambassadors with diverse lived experience with disability (at no charge thanks to our generous sponsors) for your school, classroom or youth group. With an engaging and impactful presentation developed specifically for National AccessAbility Week called AccessABILITY - Why it Matters, attendees will learn: 
how removing barriers creates an inclusive world where people with disabilities can live to their full potential; 
how to view the built environment through a different lens; 
And how to become a difference-maker in creating a world where everyone can go everywhere. 
Image
Hero
Teach Youth about the Importance of Accessibility
Try our Accessibility Inspectors Little Big Lesson, created for National AccessAbility Week! Students take on the role of accessibility inspectors and use checklists to inspect their classrooms, schools, and homes. They then share their ideas about how to improve accessibility in these places. This lesson is appropriate for home or the classroom, and is intended for Grades 3-7.
Attend a Virtual Event 
Join an engaging and impactful virtual presentation with one of our RHF Ambassadors: 
RHF Ambassador Robert Hampson together with the New Brunswick's Premier's Council on Disabilities, the Neil Squire Society in New Brunswick: Join us on June 1st 
RHF Ambassador Bean Gill and Robert Hampson in partnership with the University of the Fraser Valley. Join us from June 1st to 3rd 
Join the Movement! 
All week long, we'll be sharing stories, news and exciting announcements about people, organizations and places who are making a difference for people with disabilities. Follow along on our Facebook, Twitter, LinkedIn and Instagram channels to stay in the loop! 
On Friday, June 4th, we will finish the week by announcing this year's RHF School Program Difference Maker of the Year Award winners – youth, community leaders and educators across the country who are improving access and inclusion for people with disabilities.  
---
Learn more about Universal Design  
We've created these free universal design guidelines to help your location become more accessible. 
---
While we still have a long way to go to realize a world without barriers for people of all abilities, we hope you will join in the celebration of how far we've come as an inclusive country, and continue to help create a world for #EveryoneEverywhere!