Meet 2019 Difference Maker Educator of the Year Tyler Bargen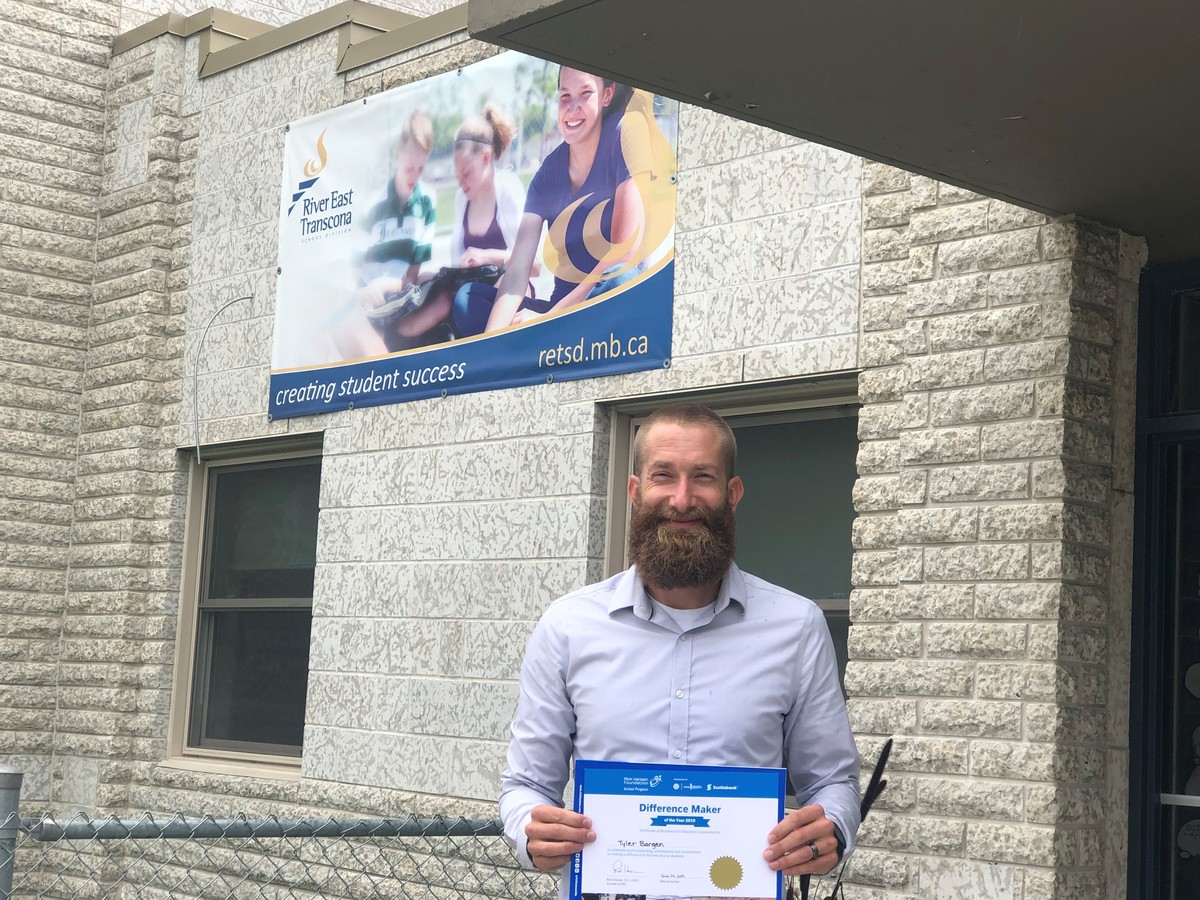 Tyler Bargen was honoured to hear that he'd won an educator Difference Maker of the Year award from the Rick Hansen Foundation. "It's a passion of mine to include everyone of all abilities," he says. 
Tyler was nominated for his efforts in organizing an "Inclusivity Week" at Munroe Junior High School in Winnipeg, but he's quick to acknowledge that his colleague Desiree Penner deserves the award just as much as he does for co-organizing the activities. It all began when Tyler and Desiree, both physical education teachers, thought it would be both fun and eye-opening to do a unit on wheelchair basketball. It was a big hit with the students, and grew each year with new types of adaptive sports. 
Adaptive Sports and Changing Attitudes 
Students at Munroe have gotten a chance to try sledge hockey at a local rink, as well as sports designed for people with vision loss like goalball and blind soccer. "Students would often say it was their favourite thing they did in phys-ed all year," says Tyler, "Kids who got to use the wheelchairs in previous years would ask when the unit was coming." The adaptive sports also helped teach the students that being an athlete is impressive whether you have a disability or not. Like conventional basketball, students learned that wheelchair basketball requires a great deal of athleticism. 
Using RHF Ambassadors to Teach Disability Inclusion
Tyler also invited guest speakers including RHF Ambassadors Jordan Rogodzinkski and Sam Unrau to share their stories of living with a disability and overcoming challenges. Not only did Sam give an Ambassador presentation, but he also joined the students in PE class, showing them firsthand that a person with a disability can be an accomplished athlete. "It definitely changed how they viewed people with a disability," says Tyler, "The students were able to see beyond someone in a wheelchair to someone with great abilities."
The Ambassador presentations contributed to a culture of inclusion at the school, something Tyler feels is extremely important, especially in classroom settings: "When people are included, they feel safe, and when they feel safe, they're ready to learn. It all goes hand in hand."
Start Small
Organizing an Inclusivity Week at your own school may seem overwhelming at first, but Tyler's advice is to start small and see where it goes. "Just try something, whatever capacity that you're in, to build inclusiveness and see the impact that it can make. At Munroe, it started with booking wheelchairs. Do what you feel comfortable doing, or let yourself be a little uncomfortable and try something new and see what happens." 
After 13 years at Munroe Junior High, Tyler is now working as a guidance counsellor at John Henderson Junior High School in Winnipeg. While he's sure to be missed at Munroe, he's undoubtedly creating a safe and inclusive space for his new students to grow and be successful.