For Emerson Potter to join his outdoor gym class at Blewett elementary school in Nelson, B.C., he had to drive his power wheelchair off school grounds, travel up nearby Blewett Road, and then go through an access gate to get to the sports field. 
Nine-year-old Emerson is in Grade 4 and was born with cerebral palsy. It affects motor control, and while Emerson can walk short distances independently, he primarily uses his wheelchair to get around. 
The lack of accessibility is frustrating. Having to go the long way around to the field is just that – long. It is five times the distance for him to travel than the rest of his class who can bound up the outdoor stairs from the school building to the field. Emerson decided to do something about this barrier for himself and for other students and educators who have mobility disabilities. 
He wrote a letter to School District 8 and had a meeting with the Director of Operations. The team hatched a plan to construct a path to the field and improve access to the ground's tennis courts.  
A Valuable Experience 
While Emerson was only eight when he began advocating for these changes, his maturity is not a surprise once you get to know him. In fact, Emerson articulated his needs so clearly that his school principal, Tim Mushumanski, was quoted in the local newspaper, the Creston Valley Advance, describing Emerson as "a forceful young man" who could one day consider "a career in politics, a career in public speaking, motivation, those things are perfect for him." 
Emerson loves playing video games, is a bit of a stand-up comedian, and is an avid reader. "He reads at a Grade 9 level," said his mom, Lindsay. "Ten!" Emerson interjected.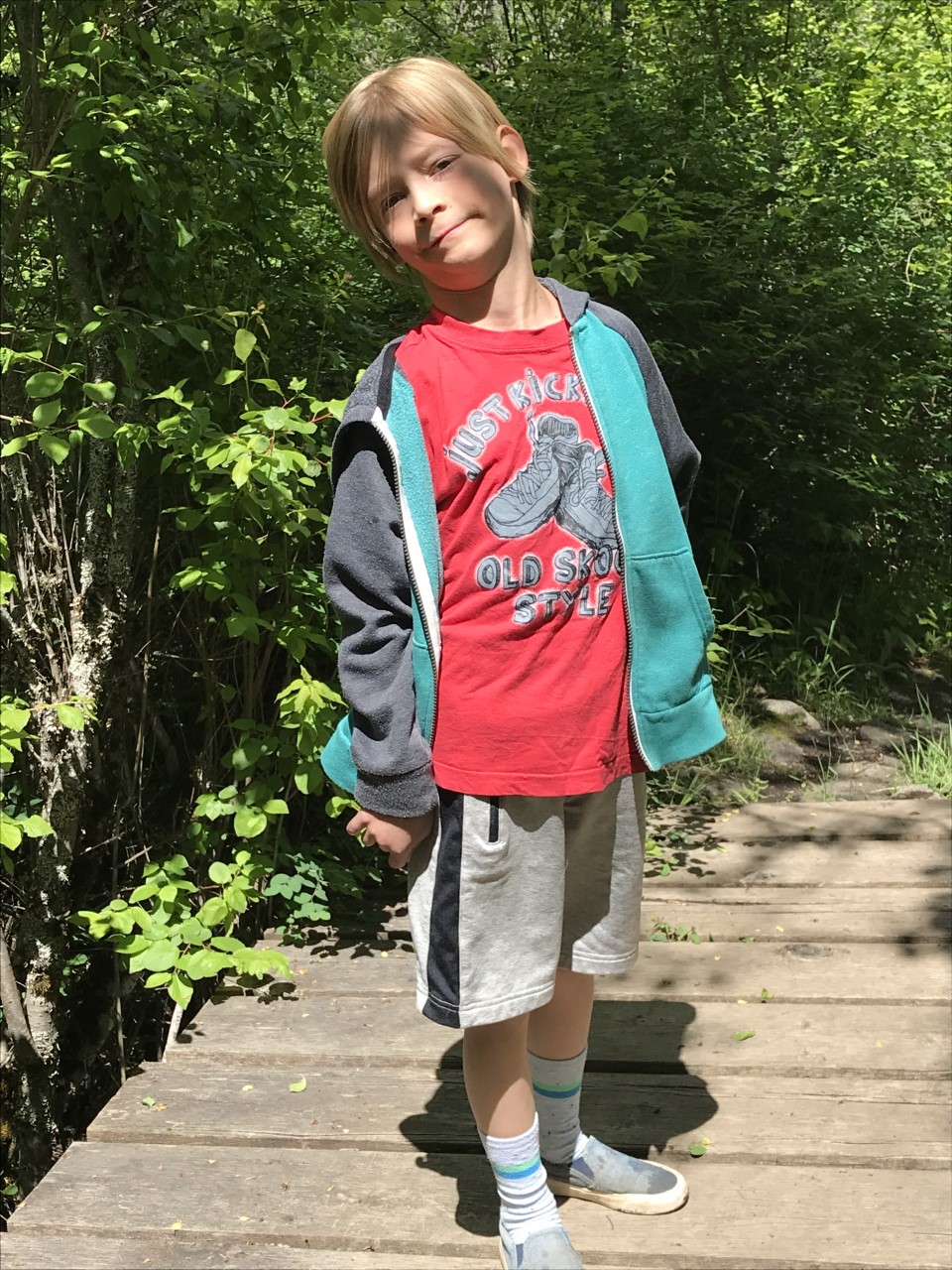 Emerson also describes himself as being creative and a nice guy (he is also into being well put together, he pointed out – he has grown out his hair for an entire year so he now resembles an indie rock musician). He was happy to see the finished path when school was back in session in September. 
"It feels good. It feels good," he stressed. "I really don't know how else to describe it." Emerson was excited about appearing in the Advance about the accessibility project at Blewett. The headline included the words "Pretty Awesome.".  
Advocating helped Emerson in more ways than one. His mom noted that he is far more comfortable talking about his disability than he was before speaking up about the need for an accessible path to the sports field. 
"As Emerson grows up and has more encounters, he's going to start to realize how many things need to be advocated for," said Lindsay. "So, as a parent, this was a good experience for him to be able to voice his needs to other people. And, talk about his disability because that's not always an easy thing to do." 
Lindsay noted that the ball really got rolling on the accessibility project when the maintenance team met with Emerson. "Emerson has a very, very powerful personality and presence. He lights up the room when he walks into it or rolls into it with his wheelchair," she said. "Once people get to meet Emerson and get a sense of how difficult certain things can be for him, I think it spurs people on to want to help." 
Done with Intention, Not for Attention 
Emerson was eager to talk about being a 2021 the Rick Hansen Foundation School Program Difference Maker of the Year award recipient. Difference Maker of the Year awards acknowledge educators and students across Canada who make a difference in improving accessibility and inclusion in their schools and communities. Emerson is one of eight students selected for the 2020/2021 school year.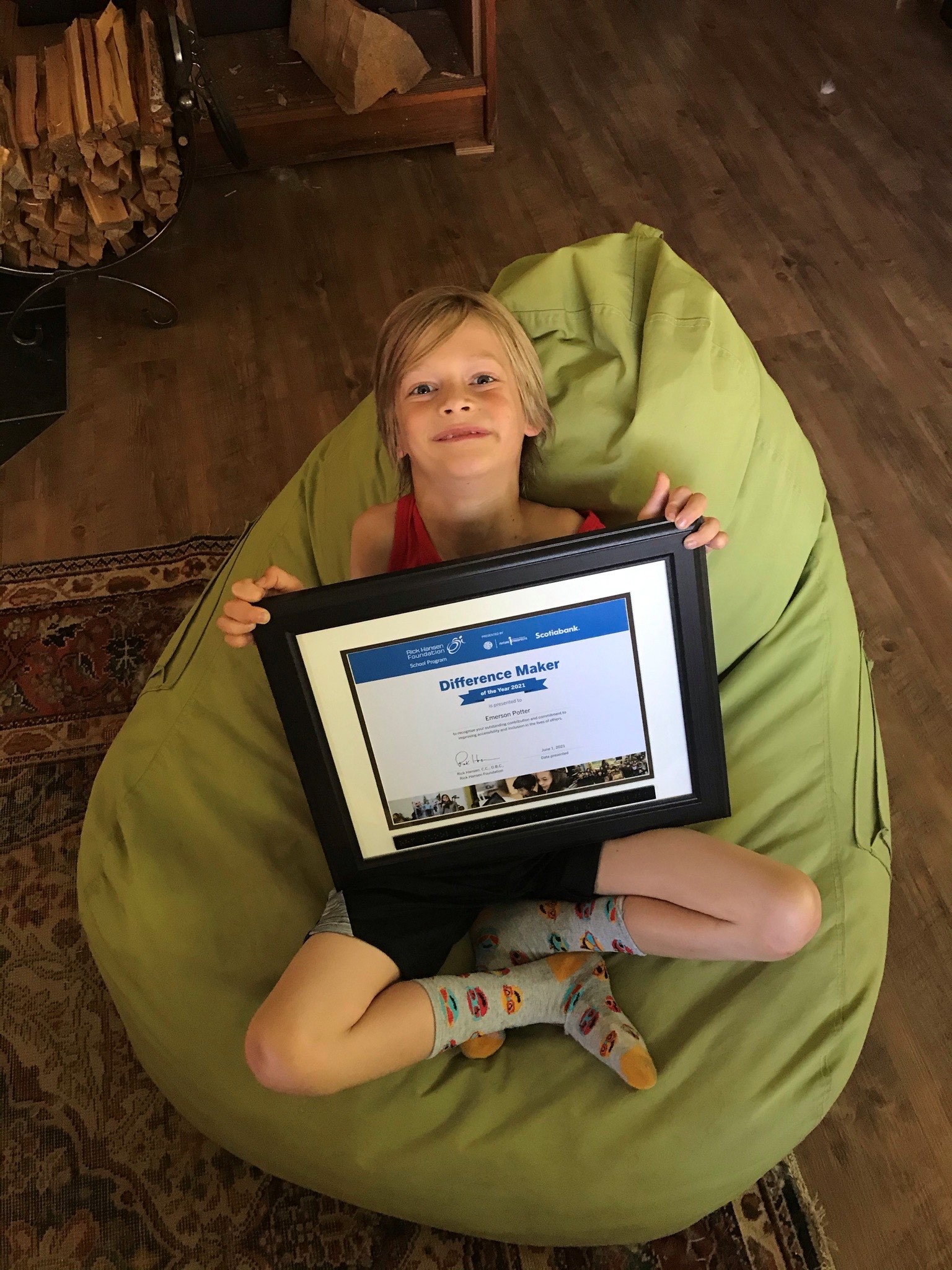 "I was like, oh my! What's that? What have I done?'" Emerson said. "I was just in shock about it. Like, 'Are you serious?' Most people get awards when they're in their 20s, and I'm not even ten yet!"  
He continued, with mention that it was his therapist Rachelle Vogel who put forth the nomination. 
"I just feel like it's an honour. It makes me feel happy and proud that someone would nominate me and I actually won the award. So, that's cool."