Angela Regush is a recipient of 2022's Rick Hansen Foundation School Program (RHFSP) Difference Maker of the Year award! The recipients are students, teachers and community youth leaders who made positive contributions to inclusion and accessibility for people with physical disabilities during the 2021/2022 school year, either in their school, greater community–or both!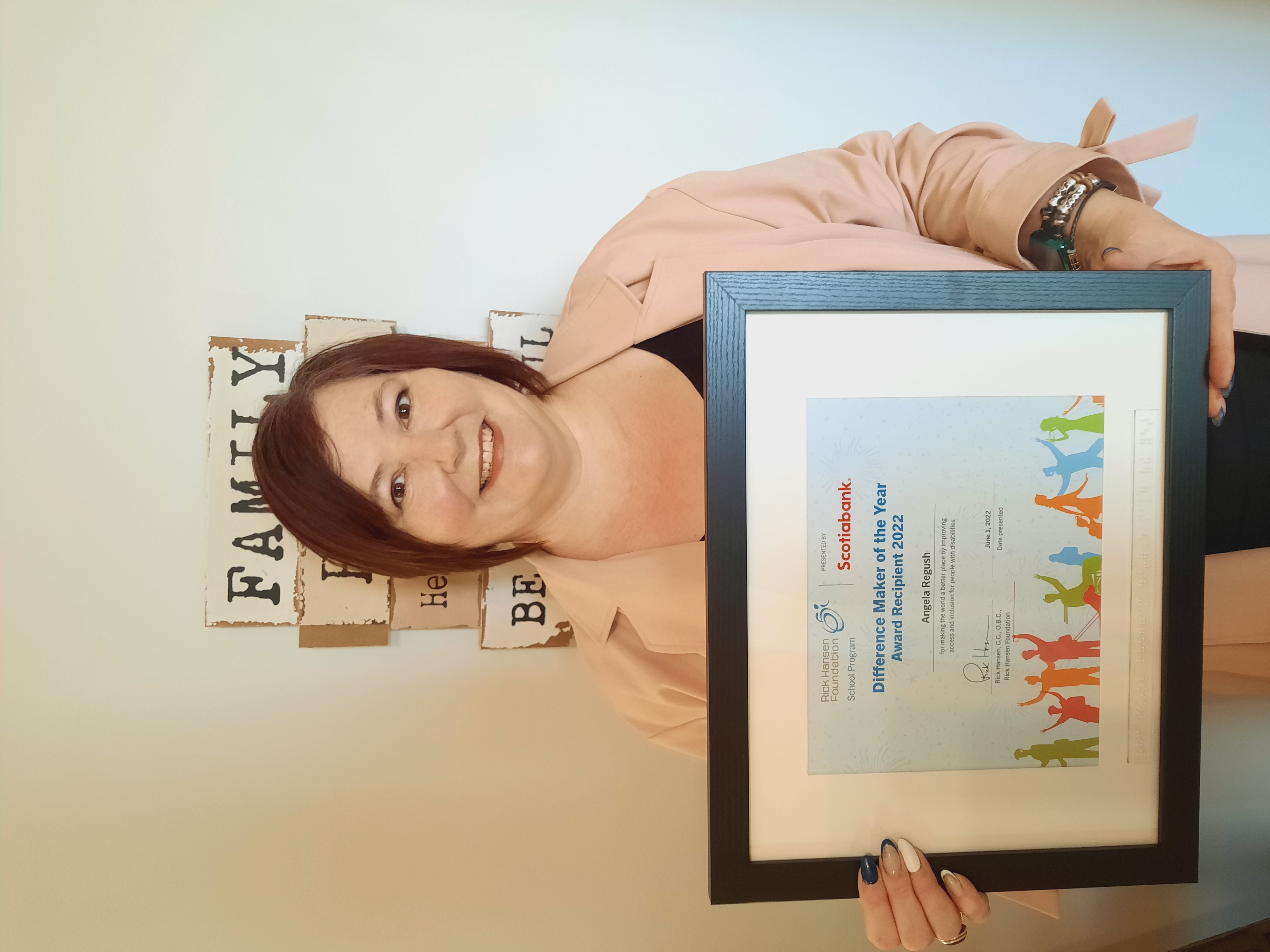 Regush is the student support services teacher at Constable Robin Cameron Education Complex, in Beardy's and Okemasis First Nation. Regush works to help students succeed through increased accessibility and support, and empowers her colleagues to find new solutions that best support each student. 
When asked why being a Difference Maker is important, Regush replied, "seeing all of the successes and achievements that [people] can accomplish when things are accessible to them." 
Angela's Path to Making a Difference 
Access and inclusion have been important to Regush since she was young, which shaped her career path of being a support teacher for those with various disabilities.  
"It's kind of been in my life since I was little. I read a story by Torey L Hayden called One Child and I found that just amazing and wonderful, how one person can make such a difference in somebody's life," she says.  
One of Regush's current areas of focus is to help remove attitudinal barriers, particularly towards those with invisible disabilities. She says when disabilities are not visible, it can result in a lack of understanding in how to provide the necessary access to support, or that increased accessibility is even needed. One way she is working towards breaking down attitudinal barriers is raising awareness with her colleagues, and using relatable comparisons to help broaden their perspectives.   
"It's about being able to see how you can accommodate somebody," Regush says. "To one of [the] teachers...I said 'You use glasses to help you read. [This student] needs help reading, too. Glasses aren't going to help her, but you reading to her will help her.' And then [the teacher] said 'oh, okay!' So, [she was] getting it now. I think that's one of the biggest ways to overcome those barriers." 
Beyond the Classroom  
Raising awareness is not the only way Regush works to make a difference for people with disabilities. She often stays late after school to provide additional support for those who don't always have the proper resources available to them during the school day.  
"There isn't enough time during the class time for them to get the help that they need," she says.  
To ensure equity for students of all abilities, Regush created a program where she offers her time and support outside of regular school hours. 
"I opened up an after-school tutoring [program]," she says. "They're at school with me from like, 4:00 o'clock after school. Some nights they're there until 10:00 o'clock." 
As Regush looks ahead into increasing advocacy and awareness, she says she is focusing on inclusion for all students and emphasizing the importance of providing support early on. 
"It's very difficult to rebuild self-esteem. It's much easier to maintain self-esteem," she says. 
Additionally, she is working to create support for students with disabilities after they graduate. 
"As soon as they graduate from the school system, they're on their own. So, we're trying to get them programming that is going to be able to support them through their adult years, as well." she shares. 
Regush encourages others to take meaningful steps to become Difference Makers, too. What may seem like something small can make a big difference when creating inclusive and accessible environments.   
"I think the biggest thing to make a difference is being open and listening," she says. "If you're listening and open to it, I think anything can be accomplished."