Thanks to the unwavering support from our partners, donors, supporters, volunteers, and staff, we continued to make progress to build an inclusive and accessible Canada where everyone can go everywhere. We are grateful for your dedication to achieving our shared vision of an inclusive world, where our citizens are equally valued and included in the places where we live, work, learn, and play. 
Here are some highlights of what we accomplished together in 2021/22. Looking for more? Download the complete report.
"My vision of an inclusive and accessible world stems from my belief that by removing attitudinal and physical barriers, people with disabilities can live life to the fullest by having the opportunity to participate in and contribute to society."
Hero
The Critical Need for Accessibility
Currently one in five Canadians have a disability, and that number is growing exponentially as our population ages. We're at a critical point where we need to work together to ensure that people of all ages and abilities can participate in the places where we live, work, learn, and play. 
Strategy in Motion 
Thanks to your generosity, this past year we invested: 

Accessibility in Motion
We continued to encourage decision makers such as building owners, operators, industry influencers, architects and designers to view their spaces through an accessibility lens to truly understand what people with disabilities experience. According to an Angus Reid Institute public opinion poll, 92% of Canadians believe that taxpayer funded projects should be held to the highest accessibility standards.
Rick Hansen Foundation Accessibility CertificationTM (RHFAC) is a national measurement and recognition tool that rates the meaningful accessibility of buildings and sites based on the perspective of persons with varying disabilities. Since its inception, RHFAC has grown nationally, and governments and organizations alike are beginning to adopt it into policy and commit to a higher level of accessibility.
Hero
RHFAC Program and Training Milestones
While the COVID-19 pandemic continued to impact the way we did business, we shifted our processes and, as a result, saw progress in many areas. More RHFAC Professionals received their designation and are integrating learnings from RHFAC Training into their respective fields. 
Accessibility Leadership in Motion 
These RHFAC program milestones from FY2022 will make an impact on inclusive spaces that will continue to grow for decades to come. 
The City of Surrey became the first municipality to adopt RHFAC into policy with plans to build all future buildings and retrofits to RHFAC Gold 
Carleton University in Ottawa, Ont., committed to rate all campus buildings for accessibility as part of a three-year plan, as well as training internal staff as RHFAC professionals. 
The Ontario Complimentary Rating Program completed, with 250 sites in 16 municipalities completing ratings. 100% of participants said their knowledge and understanding of  accessibility improved after participating in this program; and 94%  have already made or  plan to make access  improvements.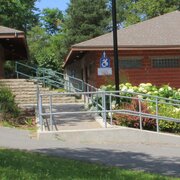 "The ratings program really gave us the ability to see what kind of barriers there are. It was a really positive thing for our organization, and I would heartedly encourage any other municipalities to engage in it, even if they don't think that a building might qualify. We put 17 sites out and only 7 of ours got certified. But that's okay because for the other 10, we know what we have to do now."

Awareness in Motion 
Attitudinal barriers are still some of the greatest that people with disabilities face. This is why building awareness is of the utmost importance. An inclusive Canada will exist when all citizens treat disability as a social responsibility where everyone has the same rights. 
Proprietary Research 
RHF worked with the Angus Reid Institute in 2021 on two new national public opinion polls on disability, accessibility, and inclusion. The data was compiled in reports called "Platform Inaccessibility? Canadians living with disabilities say key issues are being overlooked in Election 44" and "Corporate Canada Gets Mixed Report Card from Canadians Living with Disabilities", illustrating how people in Canada continue to face barriers to employment.  
Rick Hansen Outreach  
To continue to support the important work of RHF, our Founder, Rick Hansen carried the message of the critical importance of improved access and inclusion for people of all abilities to national audiences through media appearances, interviews, and opinion pieces. 
Government Advocacy  
Governments must take a proactive approach in policy to remove barriers for people with disabilities. This year, the Foundation continued to focus our government  advocacy on informing policy decisions to ensure the significant spending on new infrastructure post-pandemic is invested in creating a higher level of accessibility across the country as well as on securing accessibility champions at all levels of government.  
Disability Community Collaboration  
RHF is part of the Pan Canadian Disability Coalition, a national group which includes more than 20 disability organizations across Canada. In advance of the 2021 Federal Election, the Pan Canadian Disability Coalition held an all-party forum on disability rights to give Canada's major political parties the opportunity to share their vision and platform for the nearly 6.2 million Canadians with disabilities.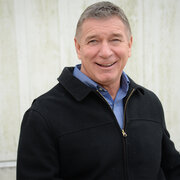 "For every barrier that exists for people with disabilities, there is a solution. These solutions exist because of people like you who help create a society in which all people can participate."
Spinal Cord Injury Research in Motion 
One of Rick's original dreams is to find a cure for paralysis caused by spinal cord injury (SCI). Through our partnership with the International Collaboration on Repair Discoveries (ICORD), Vancouver General Hospital (VGH) and the University of British Columbia (UBC) Hospital Foundation, we are making strides every day toward this goal. 
Hero
Spotlight on ICORD/UBC
The funds granted to ICORD/UBC were used to advance the following four key strategies in addition to supporting shared resources: 
Inspiring Advancements in SCI Research  
The Rick Hansen Foundation is facilitating the development of a critical new spinal cord injury (SCI) care strategy in British Columbia. Called the BC SCI Care Strategy Initiative, its goal is to advance the quality and accessibility of health care for people with SCI in B.C.  
Photo credit below: Martin Dee

Youth in Motion
Accessibility and inclusion are not currently required components of the curriculum for Kindergarten to Grade 12 students. And yet, youth are society's biggest opportunity to become accessibility champions, creating meaningful change for the next generation.  
The Rick Hansen Foundation School Program (RHFSP) offers lessons and activities that teach youth from Kindergarten to Grade 12 about disability, accessibility and inclusion and empower them to become difference makers.  
Hero
Learning about Access and Inclusion
Thanks to your generous support, and the support of Co-Presenting Partners, Boston Pizza Future Prospects Foundation and Scotiabank, we achieved the following: 

Voices in Motion: Outreach, Presentations and Panels 
The best people to ask about the state of accessibility and inclusion in the Canadian school system are those with firsthand experience – the students themselves.  This past year we continued to build on our offerings to improve the way our resources are delivered to better engage our community. Over FY22, we;  
Launched an improved and accessible, digital resource library with an improved the user experience, internal search engine and detailed filters.  
Brought together youth as well as RHF Ambassadors with vision, hearing, and mobility  disabilities and perspectives to present in multiple live, virtual panels to secondary school students. 
Worked with the Milton Public Library to host four virtual workshops for Ontario secondary students which highlighted the importance of breaking down both attitudinal and physical barriers.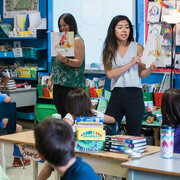 "The panel was beyond phenomenal. Incredible. Can't wait for the next ones."
Image
Hero
Read the 2021/2022 RHF Annual Report
To read more about the important work being done to remove barriers and raise awareness download the complete annual report.